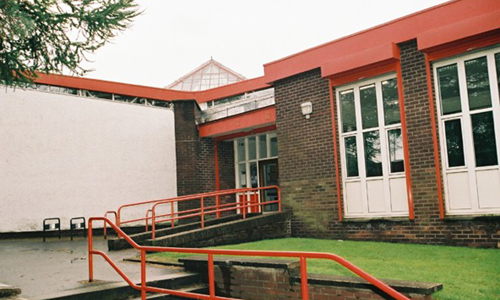 Free entry
Opening hours
Day
Opens
Closes
Mon
1:00pm - 8:00pm
Tue
10:00am - 5:00pm
Wed
1:00pm - 8:00pm
Thu
10:00am - 5:00pm
Fri
10:00am - 5:00pm
Sat
10:00am - 5:00pm
Sun
Closed
Contact
0141 276 1545
lil@glasgowlife.org.uk
LATEST INFORMATION: Drumchapel Library has reopened to the public
Opened 1968, Drumchapel Library offers a wide range of services and activities in relaxing and inspiring surroundings. With thousands of books and a programme of weekly classes and events, our friendly staff will always be on hand to help you get the most out of your visits. 
Don't forget you can access all 33 Glasgow Libraries and our 24/7 online library with your Glasgow Libraries membership card: Join Glasgow Libraries 
Find a book, reserve and renew, search the catalogue and access all of our online resources.
Accessible toilets
The accessible toilet is 18m (20yd) from the main entrance.
Assistance dogs
Assistance dogs are welcome. We can provide a bowl of water for an assistance dog.
Wheelchair access
There is a ramp leading to the library entrance.
Additional information
View the accessibility guide on AccessAble – the new name for DisabledGo.
Baby changing
Baby changing is located in the accessible toilet.
Baby feeding
Baby feeding is welcome in all Glasgow Life venues.
Community information
Community information can be found on the noticeboard wall in the main library.
Community languages collection
A small collection of books can be found in our junior area.
Local history collection
Our local history collection is located at library counter
Newspapers and magazines
Daily newspapers and magazines are available.
Novels and factual books
We offer a wide range of novels and factual books.
Parking
The venue does not have its own car park.
Photocopying
Photocopying - Free service, maximum 10 copies per customer. Copies will be black and white only.
Printing – Free Service, maximum 10 prints per customer. Prints will be black and white only.
The photocopier is located in the main library area.
Photography and video recording
On occasion, Glasgow Life will be on the premises to film and take photos.
Study spaces
Study spaces can be found in the training suite and main library.
Free wifi
Wi-Fi is free by logging on via Glasgow Libraries - no password is required.
Glasgow Libraries are working with Macmillan Cancer Support to provide Macmillan Cancer Information & Support Services in your community. If you're affected by cancer you may want to know there's someone you can turn to for help. Someone who can help find answers to your questions, whatever they may be.
There is a drop in session at Drumchapel Library every Thursday at 11am - 3pm.
Find out more about Glasgow Libraries' partnership with Macmillan Cancer Support.
Glasgow Life offers Adult Learning programmes, activities and support services in a number of libraries across the city.
For more information about Digital Learning provision, English Language courses or support with Reading, Writing or Numbers - please visit our Learning Opportunities page.
Milo the Armadillo
Jan Fearnley
All Tallulah wants for her birthday is a pink fluffy rabbit, but Gran knits her something very different. A pink fluffy armadillo!
You can even knit your own Milo Armadillo with an exclusive knitting pattern – which I have done!
Mhari, Drumchapel Library
Location Map
What's on at Drumchapel Library