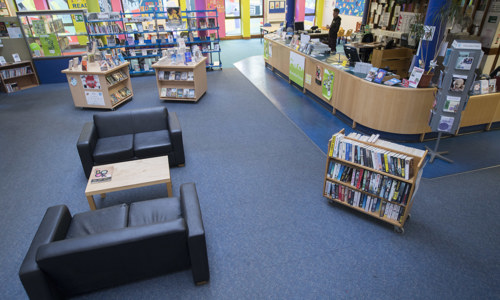 Free entry
Opening hours
Day
Opens
Closes
Mon
10:00am - 5:00pm
Tue
10:00am - 8:00pm
Wed
10:00am - 5:00pm
Thu
10:00am - 8:00pm
Fri
10:00am - 5:00pm
Sat
10:00am - 5:00pm
Sun
Closed
Contact
0141 276 0712
libraries@glasgowlife.org.uk
LATEST INFORMATION: Ibrox Library has reopened to the public.
Please note our revised opening times.
For further information on what procedures will be in place and what services will be available please visit our Library FAQs.
Built in 1981, Ibrox Library offers a wide range of services and activities in relaxing, comfortable and inspiring surroundings. Our friendly staff will always be on hand to help you get the most out of your visits.
With thousands of books and a programme of weekly classes and events, Ibrox Library has something for everyone. Don't forget you can access all 33 Glasgow Libraries and our 24/7 online library with your Glasgow Libraries membership card: Join Glasgow Libraries 
Find a book, reserve and renew, search the catalogue and access all of our online resources.
Accessible toilets
This accessible toilet is approximately 16m (17yd 1ft) from the main entrance.
Assistance dogs
Assistance dogs are welcome. We can provide a bowl of water for an assistance dog.
Hearing loop
There is a portable loop hearing assistance system.
Wheelchair access
There is level access to the service. Motorised scooters are allowed in public parts of the venue.
Additional information
Rooms are available for hire at this library at the following rates:
Commercial - £16.00 per hour 
Community - £6.00 per hour
Baby changing
Baby feeding
Community information
Community languages collection
Local history collection
Newspapers and magazines
Novels and factual books
Parking
Parking is free for all users. The car park is at the side of the venue.
Photocopying
Photocopying - Free service, maximum 10 copies per customer. Copies will be black and white only.
Printing – Free Service, maximum 10 prints per customer. Prints will be black and white only.
Photography and video recording
On occasion, Glasgow Life will be on the premises to film and take photos.
Study spaces
Free wifi
The Dark Angel
Elly Griffiths
The Dark Angel is tenth book in the Ruth Galloway Mystery series.
In this highly atmospheric mystery, Ruth Galloway - "a captivating amateur sleuth" (Louise Penny) - and DCI Nelson investigate a murder in a medieval Italian town where dark secrets are buried as deep as bones.
It's not every day that you're summoned to the Italian countryside on business, so when archaeologist Angelo Morelli asks for Ruth Galloway's help identifying bones found in the tiny hilltop town of Fontana Liri, she jumps at the chance to go, bringing her daughter along with her for a working vacation. Upon arriving, she begins to hear murmurs of Fontana Liri's strong resistance movement during World War II and senses the townspeople are dancing around a deeply buried secret. But how could that be connected to the ancient remains she's been studying?
Ruth is just beginning to get her footing in the dig when she's thrown off-guard by the appearance of DCI Nelson. And when Ruth's findings lead them to a modern-day murder, their holidays are both turned upside down, and they race to find out what darkness is lurking in this seemingly picturesque town.
Janine, Ibrox Library
Ibrox library was designed by Rogerson & Spence and opened in 1981. The building originally had a children's project room, community room, toilet for people with disabilities and public telephone. All of these areas are still in use to this day with the exception of the telephone. Ibrox was one of the first real learning centres in Glasgow to be created from the existing network of community libraries, officially opening in April 2000.
Glasgow Libraries are working with Macmillan Cancer Support to provide Macmillan Cancer Information & Support ​Services in your community.​ If you're affected by cancer you may want to know there's someone you can turn to for help. Someone who can help find answers to your questions, whatever they may be. ​​
There is a drop in session at Ibrox Library every Friday at 10am - 2pm.
Find out more about Glasgow Libraries' partnership with MacMillan Cancer Support. 
Location Map
What's on at Ibrox Library