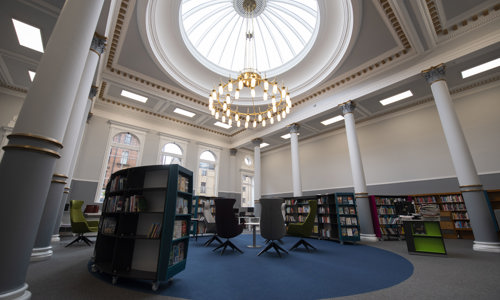 Free entry
Opening hours
Day
Opens
Closes
Mon
10:00am - 5:00pm
Tue
10:00am - 8:00pm
Wed
10:00am - 5:00pm
Thu
10:00am - 8:00pm
Fri
10:00am - 5:00pm
Sat
10:00am - 5:00pm
Sun
Closed
Contact
0141 276 1609
libraries@glasgowlife.org.uk
LATEST INFORMATION: WOODSIDE HAS REOPENED TO THE PUBLIC.
Now home to a flexible, vibrant community space, new study areas and a colourful woodland-themed children's area stocked with books chosen by pupils from Oakgrove and St Joseph's primary schools, the much-loved community library will be open full-time, six days a week.
Glasgow Libraries and Glasgow City Council have improved Woodside Library as part of the Community Asset Fund scheme.
Accessible toilets
This accessible toilet is approximately 30m (32yd 2ft) from the accessible entrance. 
A gender neutral toilet is available in addition to male and female toilets. 
Assistance dogs
Assistance dogs are welcome. We can provide a bowl of water for an assistance dog.
Wheelchair access
There is a ramp leading to the library entrance.
Additional information
View the accessibility guide on AccessAble – the new name for DisabledGo.
Baby feeding
Baby feeding is welcome in all Glasgow Life venues.
Newspapers and magazines
Daily newspapers and magazines are available.
Novels and factual books
We offer a wide range of novels and factual books.
Parking
The venue does not have its own car park.
Photography and video recording
On occasion, Glasgow Life will be on the premises to film and take photos.
Free wifi
Wi-Fi is free by logging on via Glasgow Libraries - no password required.
Glasgow Life offers Adult Learning programmes, activities and support services in a number of libraries across the city.
For more information about Digital Learning provision, English Language courses or support with Reading, Writing or Numbers - please visit our Learning Opportunities page.
If you're affected by cancer you may want to know there's someone you can turn to for help. Someone who can help find answers to your questions, whatever they may be. The Macmillan @ Glasgow Libraries information point can help you find information you need on living with all aspects of cancer as well as signposting you to the nearest support and information service.
Find out more about Glasgow Libraries' partnership with Macmillan Cancer Support.
Location Map
What's on at Woodside Library