The Tobacco Merchant's House at 42 Miller Street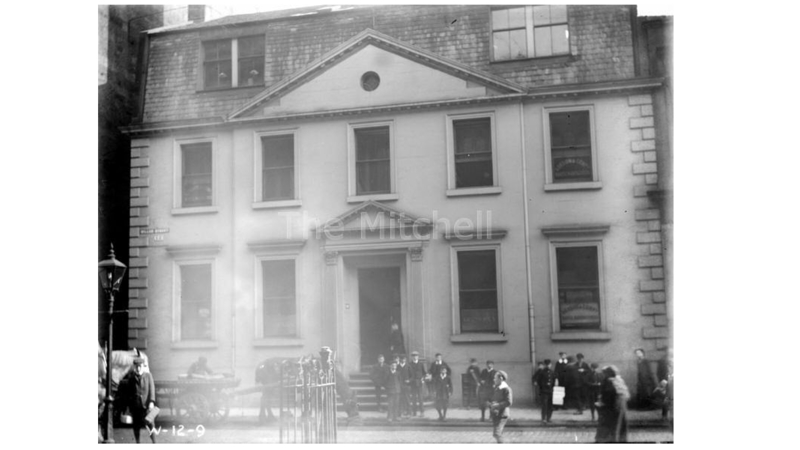 42 Miller Street in 1909
© Glasgow City Archives
5th June 2019
Nestled amongst imposing 19th and 20th century industrial and retail architecture on Miller Street in Glasgow's Merchant City, sits an attractive little house, built in 1775.  42 Miller Street, now known as The Tobacco Merchant's House, is remarkable for several reasons, not least of which is the fact that it survived the enormous industrialisation and commercialisation of Glasgow over the last two centuries.
The house was built by John Craig in 1775 on ground feued from the mansion house gardens of John Miller, Maltman.  The house, originally one of a row of villas, was bought in 1782 by Robert Findlay of Easterhill, a tobacco importer. His son, also Robert, developed the nearby Virginia Buildings in 1814 as premises for his generation of tobacco traders. By 1826, No. 42 had been sold and in 1836 it was inherited by the Misses Brown of Paisley, becoming the offices of the City and Suburban Gas Company until 1866. Thereafter, it was occupied by a variety of concerns, including jewellers, glass importers, cotton spinners, and printers.  From 1989, 42 Miller Street was vacant until it was restored by the Glasgow Building Preservation Trust and purchased by the Scottish Civic Trust, who still own and operate from the building.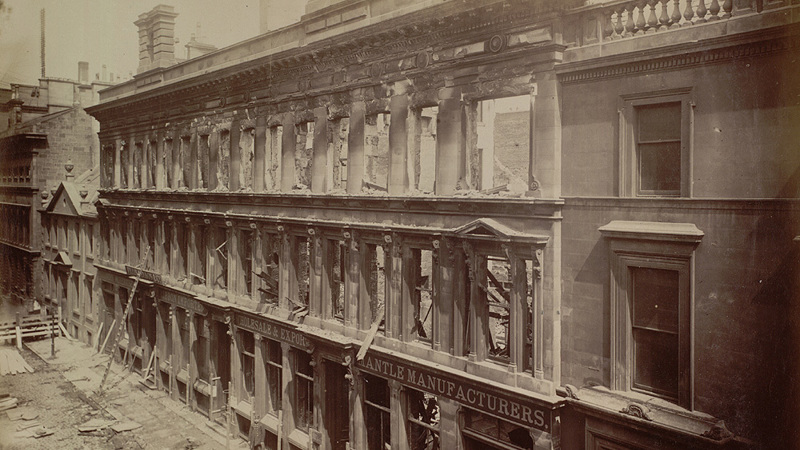 The building survived a fire in the adjacent warehouse on 8 June 1891
Glasgow City Archives
TD 338/23/22
42 Miller Street once had an iron door, as cash from the tobacco business was stored in the building.  In fact, some of the original iron safes still exist today.  The original 'tobacco merchant' Robert Findlay, made his fortune from tobacco in Virginia, where he had travelled at the age of sixteen to join two uncles who already owned slave plantations.
Only a little is known about the Findlay family while they lived in Miller Street.  Robert's daughter, Dorothea, 'ran off' with her Glassford Street music teacher John Donaldson, who went on to become Professor of Music at the University of Edinburgh, but who was described by her family as 'a cur and a scoundrel'.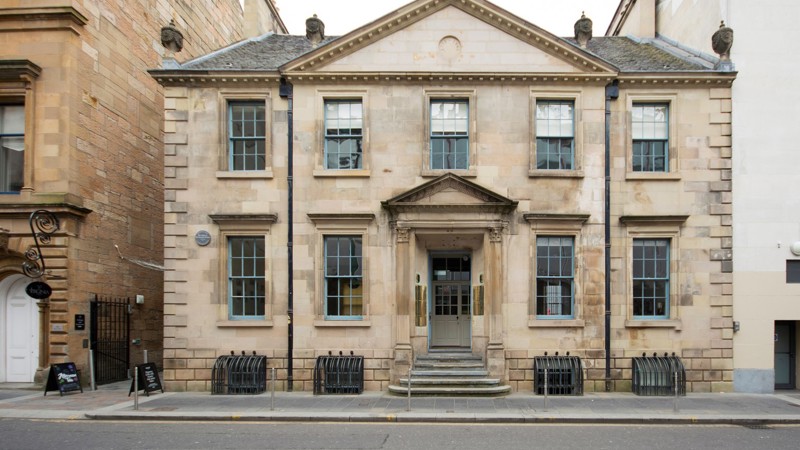 42 Miller Street today
© John Pelan
Today, No. 42 has a plaque marking it as one Glasgow most important historic buildings.  In 2014, a small sound installation was produced for the entrance to the building as part of a Merchant City public art programme created by author Louise Welsh and architect Jude Barbour. The 'soundscapes', drawing on the words of Frederick Douglass, a freed slave, explored Glasgow's involvement in the tobacco and sugar industries, and the transatlantic slave trade it depended on.
42 Miller Street is many things – a rare example of an attractive and well-proportioned 18th century villa in the centre of Glasgow rich in social history but also a sobering reminder of how Glasgow and its merchants grew their wealth on the backs of slaves in the America and the West Indies.
John Pelan
Director, Scottish Council on Archives
Give feedback about this page