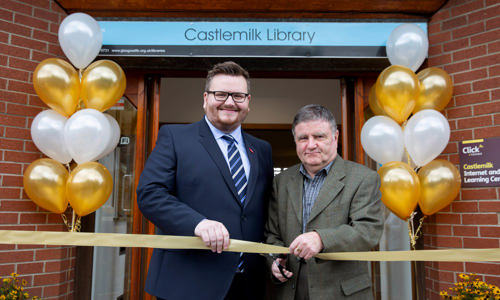 Castlemilk Library Re-opens Following £485,000 Investment
Castlemilk Library Re-opens Following £485,000 Investment
Hundreds of local residents are expected to join in celebrations at Castlemilk Library this week, as the community library re-opens today (Monday) following a period of refurbishment works.
Castlemilk Library, which has been at the heart of this south side community for almost 60 years, was given a new lease of life as part of Glasgow City Council's Community Asset Fund investment of £10 million into 30 community buildings across the city.
Councillor David McDonald, Depute Leader of Glasgow City Council and Chair of Glasgow Life, said:
Glasgow's libraries are bustling community venues, loved by the people of our city – and Castlemilk Library is no different.

As part of a planned £10 million investment into improving libraries and community facilities citywide, I'm delighted that this half million pound investment by Glasgow City Council has been made into improving Castlemilk Library including works to the roof, re-wiring and a new boiler. All of which will help maintain Castlemilk Library's role as a key community asset.
From libraries to leisure centres, community centres and arts and music venues, the Community Asset Fund was developed to address priority projects across the city, helping to ensure that venues such as Castlemilk Library continue to deliver a range of valued public services.
Of the five million visits made to Glasgow Libraries in the 12 months to December 2017, more than 64,000 were recorded at Castlemilk Library. Glasgow Life hopes that the new look library will encourage even more members of the community to explore what's on offer inside.
Improvement works have seen the library re-roofed and re-wired, and a new boiler installed. Castlemilk Library customers will also notice changes to the internal decoration of the venue and a range of new books, classes and activities.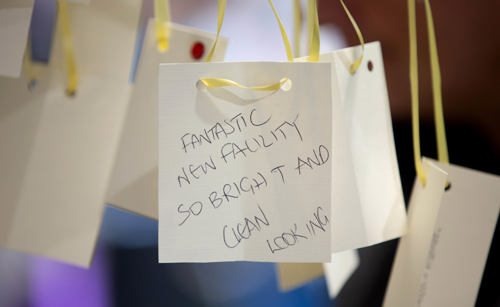 Alongside more than 19,000 books, free Wi-Fi and PC access, the new look community hub will be home to partner-led advice services delivered by organisations including Macmillan @ Glasgow Libraries, Glasgow Housing Association, Wheatley Group, Glasgow Kelvin College and Glasgow City Council.
Younger library members will be able to enjoy brand new Bookbug and Storytelling sessions, with adults invited to join in with exciting Craft, Book and Creative Writing Groups.
Library visitors can also take a step back in time to learn more about the library's history through a dedicated display detailing the building's story, with photographs dating back to the opening in 1961.
The 1960's building, originally opened on 22nd February 1961, was the first permanent purpose-built library to be built in Glasgow since Riddrie Library in 1938. On opening, the library contained a magazine room, junior library and adult lending library with a stock of 15,000 books.
Fifty-seven years on, the new look library will once again be at the centre of Castlemilk's community with re-opening celebrations and special events including Digital Learning Taster sessions and coding activities continuing throughout the year. Tartan Noir novelist Lin Anderson will also be appearing at Castlemilk Library on Friday, 14th September.
For more information, or to find out more about what's on, please visit the Castlemilk Library page