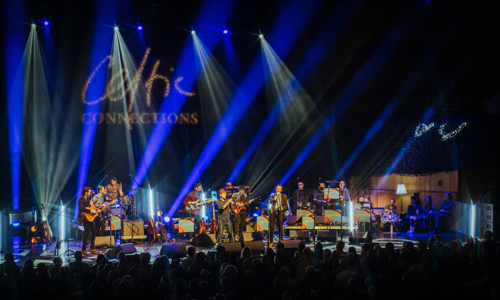 Celtic Connections 2024 programme grows with seminal Bothy Band performance planned
Celtic Connections 2024 programme grows with seminal Bothy Band performance planned
Glasgow's renowned Celtic Connections music festival is continuing to grow its 2024 programme, with 40 new acts now added, including a special one-off concert from seminal Irish group, The Bothy Band.
Europe's premier folk, roots and world music festival – which will take place from Thursday 18 January to Sunday 4 February 2024 – has already announced a wealth of performances spanning a wide variety of genres including acoustic, traditional, indie, Americana, Jazz, blues, orchestral, and experimental.
The newest additions to the bill of hundreds of festival events that will be staged at 25 venues across Glasgow feature a host of acclaimed names. 
The Bothy Band stand out as the most influential and revered of the ensembles who revolutionised traditional folk music in recent generations. They have not played a major live show in more than 40 years.
The band members – all legendary figures in Irish music – reunited last year to record a documentary for Irish television and agreed they would be open to consider their long-standing invitation from Celtic Connections to play a full concert. 
Donal Lunny (bouzouki), Tríona ní Dhomhnaill (keyboards), Matt Molloy (flute), Paddy Keenan (uilleann pipes, low whistle), Paddy Glackin (fiddle) and Kevin Burke (fiddle) will perform at Glasgow Royal Concert Hall on 22 January for what will be their first public concert since 1979. They will be joined by Seán Óg Graham on guitar. Tickets for the show go on sale at 10am on Thursday 9 November.
Donald Shaw, Creative Producer for Celtic Connections, said:
The Bothy Band were the single most influential act of their time and set a marker down for the exceptional traditional music which followed. To have one of the most beloved bands of all-time accept our long-standing invitation to play Celtic Connections and to see them come together for the first time in four decades, is one of the highlights of my festival career. The band represents the innovation and energy of the tradition and the extraordinary ability music has to connect us, and stay with us for decades. I know fans from far and wide will be flocking to Glasgow for the chance to see them perform once again.

The Bothy Band are among 40 incredible acts joining the Celtic Connections 2024 bill for what is shaping up to be an unforgettable 18 days and another landmark year in Glasgow's musical and cultural calendar. There's so much to be inspired, excited and moved by, so I would urge people to come and explore the huge wealth of talent we are privileged to showcase this winter.
Bailie Annette Christie, Chair of Glasgow Life, said:
Celtic Connections always showcases a stellar line-up of international talent, and the fact that this much-loved festival attracts such a high calibre of acts and artists is testament to how renowned it is by musicians worldwide. It also reflects Glasgow's global reputation as a superb destination for music, which our designation as a UNESCO City of Music confirms.

The latest events announced for Celtic Connections 2024 highlight what an extensive, exciting and eclectic range of exceptional entertainment audiences can look forward to in so many of our wonderful venues at the start of the year. Featuring hundreds of great genre-spanning gigs, and a host of special stand-out performances, the programme promises a wealth of treats for anyone who loves live music – and a truly unforgettable experience.
The many additions to the Celtic Connections 2024 programme include: American country star Margo Price, Breton harp legend Alan Stivell, celebrated Scottish singer Julie Fowlis with her vibrant band of some of Scotland's finest instrumentalists, Wisconsin-based guitarist and songwriter Buffalo Nichols, Scotland's premier exponent of modern funk Federation of the Disco Pimp, and Grammy-nominated Irish American supergroup Cherish the Ladies.
Further details of the latest acts added to the festival bill can be found at: https://www.celticconnections.com/news/celtic-connections-2024-programme-grows-with-seminal-bothy-band-performance-planned/
For details of the full programme, and to book tickets, visit: https://www.celticconnections.com/