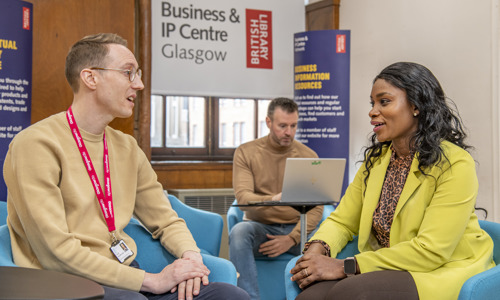 Glasgow Business and IP Centre helps create nearly 300 new businesses and over 150 jobs
Glasgow Business and IP Centre helps create nearly 300 new businesses and over 150 jobs
A learning, networking and information hub based in The Mitchell Library in Glasgow has helped to create almost 300 new businesses and more than 150 jobs in the last three years.
Glasgow's Business and Intellectual Property Centre (BIPC), run by Glasgow Life, the culture and sport charity, supported entrepreneurs to open 278 new firms and create 155 new roles between April 2020 and March 2023.
A Democratising Entrepreneurship 2.0 report, launched at the House of Lords by the British Library, confirmed the assistance the Glasgow BIPC provided during this period boosted Glasgow's economy by £4.6 million.
The Glasgow BIPC is a hub where people learn, network and access free and low-cost information on protecting and commercialising a business idea.
The service offers free access to high-quality UK and global market intelligence, customer insights and company data (worth over £5m), combined with intellectual property advice and guidance. It also runs free workshops, one-to-one support sessions and mentoring delivered by library staff and public/private sector business experts and partners.
Additionally, there are topical networking events, featuring role model entrepreneurs; accessible and welcoming spaces with PCs, desks and Wi-Fi; and online support, including webinars, one-to-one business and IP advice sessions, and panel discussion screenings.
The Glasgow BIPC works in partnership with Glasgow Chamber of Commerce, Glasgow School of Art, the National Library of Scotland and Business Gateway.
Of all the entrepreneurs who used the hub's support services in the past three years, 53% were women, 18% identified themselves as being from a minority ethnic community, 17% were disabled, and 25% were aged 35 and under.
Andrew Olney, Director of Libraries, Sport and Communities, Glasgow Life, said:
"Glasgow Life Libraries offer everyone the chance to discover and learn in every part of the city. The Glasgow Business and IP Centre at The Mitchell Library is a service which is helping generate wealth in the city and create jobs through the support and advice on offer to start-ups. If you are planning to start a business, you can get the help you need through The Mitchell Library, either in-person or by phone or email."
The first BIPC opened at the British Library in St Pancras, London in 2006 and the nationwide BIPC Network was established in 2012, with support from the Intellectual Property Office. Following a £13m investment from the Department for Culture, Media and Sport in 2020, the BIPC Network expanded to over 100 locations, reaching people who are under-represented in business in more urban, rural and coastal locations than ever before.
The full Democratising Entrepreneurship 2.0 report can be downloaded from the British Library's website at www.bl.uk/business-and-ip-centre/about.
For more information on the Glasgow BIPC, visit: www.glasgowlife.org.uk/libraries/work-money-and-learning/business-and-ip-centre-glasgow. Call the service on 0141 287 2904 or email Business@glasgowlife.org.uk.