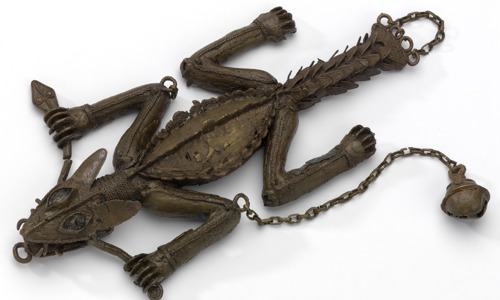 Glasgow City Council approves repatriation of global cultural artefacts
Glasgow City Council approves repatriation of global cultural artefacts
More than 50 cultural artefacts held in Glasgow's museum collections are to be returned to the descendants of their rightful owners in what will be the largest-ever repatriation agreement approved in Scotland.
Glasgow City Council's City Administration Committee has today (Thursday 7 April) approved a recommendation by the Council's cross-party Working Group for Repatriation and Spoliation to return 51 items to Nigeria, India and the Cheyenne River and Oglala Sioux Tribes in the US state of South Dakota, at the request of the nations where the artefacts originated.
Glasgow Life Museums, which manages the city's museum collections, will continue to engage with the National Commission of Museums and Monuments of Nigeria, acting on behalf of the Royal Court of Benin, to repatriate 19 Benin artefacts to Nigeria after it was established the objects – acquired as gifts, bequests and from auction houses – were taken from sacred sites and ceremonial buildings during the British Punitive Expedition of 1897.
Glasgow is also working with the High Commission of India in London – representing the Government of India and the Archaeological Survey of India – to return seven Indian antiquities; a decision which is the first of its kind for a UK museums service. Six of the artefacts were stolen from temples and shrines in different states in Northern India during the 19th century, while the seventh was illegally purchased as a result of theft from the owner. All seven objects were gifted to Glasgow's museum collection.
Twenty-five Lakota cultural items – sold and donated to Glasgow's museums by George Crager, an interpreter for the Buffalo Bill Wild West Show that visited the city in 1892 – will be handed back to South Dakota-based descendants of the late Marcella LeBeau; a Lakota elder, politician, nurse and military veteran who died last year. Some of these objects were taken from the Wounded Knee Massacre site following the battle of December 1890, while others were personal items belonging to named ancestors or are ceremonial artefacts; all of which represent the belief, history, and values of the Oceti Sakowin.
Duncan Dornan, Head of Museums and Collections at Glasgow Life, said: "Glasgow has a positive history regarding repatriation. The return of these objects from Glasgow Life Museums' collection to their rightful owners represents the largest-ever repatriation of cultural artefacts from a Scottish museums service and is a significant moment for our city. Specifically, the repatriation of seven Indian antiquities is the first of its kind to India from a UK museum.
"Glasgow has been at the forefront of repatriation efforts in the UK since 1999, when a Lakota Sacred Ghost Dance shirt was returned to the Wounded Knee Survivors' Association. Since then, we've continued to maintain and build relationships internationally, which is fundamental to finding a respectful and constructive outcome for all parties. Glasgow Life Museums has worked in partnership with various official representatives on these latest repatriations and we recognise the importance of transparency when explaining how such objects arrived in the city.
"By addressing past wrongs, we believe these returns will, in a small way, help these descendant communities and nations to heal some of the wounds represented by the wrongful removal of their cultural artefacts."
Where possible, Glasgow Life Museums works proactively with communities when artefacts have been identified, through research, to have been acquired inappropriately. To assist with repatriation requests, Glasgow Life Museums also provides information to support preliminary enquiries from community representatives about objects in its collection and their known provenance.
For further information, see Glasgow Life Museums' policy on repatriation and spoliation.
Picture caption: The above image shows a Bronze back ornament of a crocodile/lizard from Owo, Nigeria. It reflects a Yoruba badge of rank worn by chiefs of royal lineage in the kingdom of Owo.