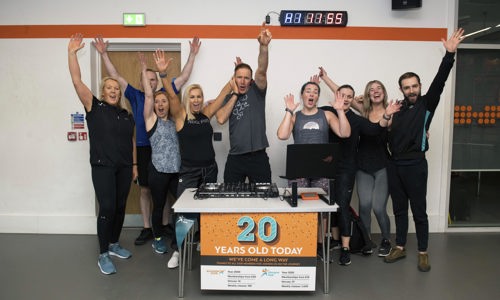 Glasgow Club celebrates 20 Years of Keeping the city fit
Glasgow Club celebrates 20 Years of Keeping the city fit
Glasgow Club has celebrated 20 years of helping the city remain active and healthy at a special fitness session for life members at Kelvin Hall, hosted by Clyde 1 DJ and George Bowie.
Fitness fans who joined Glasgow Club when it first opened its doors in February 2000 gathered to celebrate 20 years of the success of the Club which was launched to revolutionise the way people use health and fitness facilities in the city.
Glasgow Club has welcomed thousands of members since opening its doors in 2000 and offers a range of flexible membership options that are great value for money.
Clyde 1 DJ and host, George Bowie, said:
It's great to be back to help Glasgow Club celebrate 20 years – though it feels like only yesterday I supported the launch and began my own membership at Kelvin Hall.

There's no better feeling than getting into the gym, tuning in to your favourite music and getting the heart rate pumping. As listeners to my Clyde 1 show will know, I love a mix of music and it's definitely what gets me through my own workouts.

The gym at Kelvin Hall is perfect for me and my fitness routine, well located and kitted out with a stack of modern equipment. Here's to 20 more years of Glasgow Club workouts!
Original Glasgow Club members were able to make use of any 16 Glasgow City Council fitness facilities for as little as £30 per month and over 150 fitness classes per week.
Today, Glasgow Club members can benefit from access to 27 venues, 1400 weekly classes and memberships from as little as £15. It is now the city's largest health and fitness offer with over 45,000 direct debit members in 2019.
Brenda McLaughlin, a 56 year old instructor from Whiteinch who has been teaching at Glasgow Club since launch, said:
Encouraging people to try new things, seeing them improving and hitting their fitness goals and building confidence is brilliant.

I've been an instructor for over 25 years. My first Glasgow Club was Drumchapel, but I've taught everywhere from Scotstoun and Bellahouston to Tollcross and North Woodside and every class under the sun, from Body Pump and Metafit to Thai Boxing and aerobics.

I love teaching and the rapport I can build – a lot of members who come to my classes have been coming for years and many are now friends. When I missed teaching for a year due to illness, people kept in touch and coming back was really special.
The beauty of Glasgow Club facilities is that people can use their local sports or leisure centre as well as any facility which is near their place of work or study, offering an unrivalled variety and flexibility to its members.
Linda Rodger, 57, from Parkhouse, who also joined the class said:
When I first joined Glasgow Club I had two young kids and wanted to get fitter and lose weight. As time went on, I also found it was a great for my social life.

These days my job as part of the service crew at Asda's Home Shopping team is also quite physical so it's important in my day to day job to stay fit and healthy.

My favourite part of the membership is the variety of venues and classes offered. With my job I often have a 4am start at work so I like to attend teatime classes and the schedule is perfect for me. There's always something on where and when I need it and I can follow my favourite instructors from Emirates to Scotstoun to Kelvin Hall.

The classes fit my schedule and the instructors are great, it's not just their energy and their skill set but their sense of humour makes the classes fun – and given my schedule I can follow my preferred instructors from venue to venue. The price is fantastic for what you get as well, very reasonable and compared to other gyms great value for money. I wouldn't consider any other club.

While classes are what I love, Glasgow Club did inspire me to run a marathon in 2000 which I'm really proud of. I didn't think running was my thing but with a friend I trained for a couple of 10ks in 1999 and the following year I ran my first (and only!) marathon which was a real achievement.
In 2018, Glasgow Club developed a number of new membership packages to reach a wider audience with a wider and more varied offer. These include the ActivClub membership, open to anyone 14 years and above and developed to support those who may be new to exercise, prefer/need low impact activity, or are returning to it after a long period of time and FitClub JNR, a membership specially designed to meet the exercise and wellbeing needs of 12-13 year olds.
Councillor David McDonald, Chair of Glasgow Life and Depute Leader of Glasgow City Council, said of the anniversary: 
Glasgow Club has transformed the way people use health and fitness facilities in the city. Founded on the principle of improving people's lifetime health from childhood to adulthood and, as the only not-for-profit health club in the city, every penny Glasgow Club makes is re-invested in services and facilities for the benefit of its members.

Glasgow Club has grown its membership through a range of affordable memberships based on ability to pay and reflects the needs of the city in all its diversity. It has become part of the fabric of the city over the past two decades and I have no doubt will continue to make a positive impact on people's health and wellbeing over the next 20 years.
For anyone interested in finding out more about Glasgow Club membership: