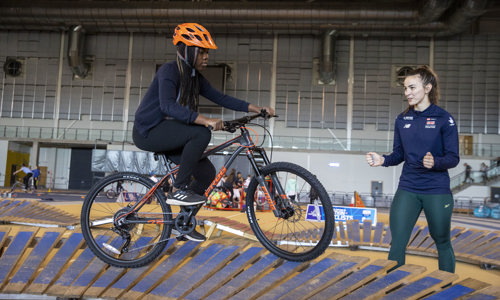 Glasgow kids get on their bikes ahead of 2023 UCI Cycling 'Worlds'
Glasgow kids get on their bikes ahead of 2023 UCI Cycling 'Worlds'
The buzz is back in the Sir Chris Hoy Velodrome in Glasgow, as world-class sporting action returned to the venue this week, with the staging of the Tissot UCI Track Nations Cup – the first major event to be held there since the start of the pandemic, more than two years ago.
Glasgow is delighted to be hosting the first round of the 2022 edition of this prestigious event, adding to its proud history of staging major international track events in partnership with British Cycling and EventScotland. With many of the sport's established names set to return to competition following a break after Tokyo, the people of Glasgow are sure to make the experience for them a memorable one.
Also set to enjoy the action, are more than 800 lucky Glasgow school children, who are being given the chance to experience first-hand the speed and excitement of track cycling, getting a taste of what is to come at the 2023 UCI Cycling World Championships next year.
From 3-13 August 2023, the inaugural UCI Cycling World Championships will be hosted in Glasgow and across Scotland. It will be the single biggest cycling event in history, bringing together 13 existing individual UCI world championships into one mega event, with five venues in the city staging no less than eight of the 13 UCI World Championship events, including Track and Para-Cycling Track.
As a principle funder of the Championships, Glasgow's vision is to create a vibrant cycling city where cycling is accessible, safe and attractive to all, continuing its commitment to deliver a tangible legacy for local communities from staging major events.
Already Glasgow Life's sports development team has exciting plans in place to work closely with schools and community groups, to ensure that as many people as possible get the opportunity to experience cycling in all its forms, ultimately aiming to get more people out riding on bikes.
Today's schools visit to the Emirates Arena and Sir Chris Hoy Velodrome provided the perfect kick-start, with learn to ride and cycling skills sessions, a mini mountain bike track to tackle and even a chance to see how pedalling on a static bike can generate electricity to power other gadgets.
Helping to deliver these activity sessions were a three members of Scottish Cycling's Young People's Panel and a number of Active Schools Modern Apprentices, excited to be sharing their cycling skills and knowledge and encouraging the school pupils to experience what fun cycling can be.
There will also an added thrill for some of the youngsters, who had an opportunity to meet up-and-coming Scottish track cycling star, Lusia Steele from Paisley, who competed for Great Britain in the women's team sprint at the Track Nations Cup last night.
Lusia Steele said: "It has been fantastic to be here at my home track competing for Great Britain in front of a Scottish crowd last night and hopefully gives me a taste of what is to come next year at the UCI Cycling World Championships which is the big target for me, after this year's Commonwealth Games.
"It has also been really inspiring to come along and meet so many school pupils today as they see for themselves just how much fun it is to get on a bike and how varied cycling can be. It would be great if some of these kids go on to join cycling clubs and take up the sport like I have, but just getting out with friends or family and riding bikes together for fun and to get fit is also really cool."
After a busy session, trying out the exciting range of cycling activities for themselves, pupils from 12 Glasgow primary schools (Alexandra Parade, Antonine, Blackfriars, Dalmarnock, Eastbank, Quarry Brae, Riverbank, St. Bernard's, St. Brendans, St Oswald's, Thorntree, Wellshot) and five secondary schools: (Abercorn, Lochend, Lourdes, St. Oswalds, Springburn), were in for a treat, watching some of the best cyclists in the world speeding around the boards, including a seven-strong Scottish contingent to cheer for.
Douglas Hutchison, Executive Director of Education, Glasgow City Council said: "What a wonderful opportunity for the children and young people and the chance to experience not only some cycling sessions but also witness some of the best cyclists in the world compete.
"Our PEPASS active school co-ordinators offer a wide range of cycling activities across the city – including track cycling at the Velodrome – so the visit today is a brilliant way to complement the great work the team deliver in our schools."
It is hoped that today's visit will play its part in inspiring the youngsters to give cycling a go, as the city gears up to delivering, as the first UK city to be awarded UCI Bike City status.
Some tickets are still available for the remaining sessions of the Tissot UCI Track Nations Cup over the weekend (23-24 April 2022), starting from £15 for adults and £10 for children https://www.ticketmaster.co.uk/uci-track-nations-cup-tickets/artist/5363813