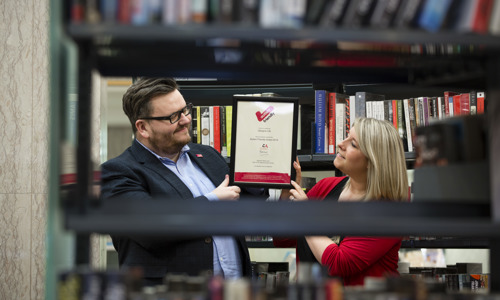 Glasgow Libraries and Communities celebrate Autism Friendly Award success
Glasgow Libraries and Communities celebrate Autism Friendly Award success
53 Glasgow Life venues are honoured with the National Autistic Society Scotland's Autism Friendly Award
Glasgow's community facilities and libraries are the very first in Scotland to be certified as autism-friendly after achieving the National Autistic Society Scotland's Autism Friendly Award.
To achieve the award, staff learned about autism and made adjustments to the way they work to ensure autistic visitors can access and enjoy the services they offer. This included carrying out a consultation with autistic customers to find out what they found challenging, and creating designated quiet spaces in each venue.
Glasgow Life have also created autism-friendly visitor guides to help autistic customers prepare for their visit to venues which include the city's iconic Mitchell Library.
The Autism Friendly Award, administered by the National Autistic Society Scotland, recognises organisations that ensure autistic visitors and their families can access and enjoy their venues.
Fiona McGrevey, Area Volunteering Development Manager at the National Autistic Society Scotland, said:
We know that 44% of autistic people and families in Scotland sometimes don't go out because they're worried about how people will react to their autism.

We also know that small adjustments can make a big difference, meaning that autistic people can access and enjoy places that many of us take for granted. The Autism Friendly Award encourages organisations to learn about autism and make the small adjustments that mean they are more welcoming for autistic people and their families.

I'm really impressed by the changes Glasgow Life have made to improve accessibility for autistic people and their families at their venues across the city. I hope other organisations will be inspired to follow their lead and work towards an Autism Friendly Award.
Councillor David McDonald, Chair of Glasgow Life and Depute Leader of Glasgow City Council said:
Everyone who lives, works or studies in Glasgow, and anyone who visits our great city, should feel comfortable accessing our libraries and community centres.

I'm delighted that Glasgow is the first city in Scotland to have its public libraries and community centres achieve the Autism Friendly award. These 53 venues join a number of other autism-friendly Glasgow Life facilities, including the Gallery of Modern Art and Riverside Museum, in helping to create a welcoming environment and making a difference to autistic people and their families. I shall look forward to seeing more of our services and facilities across the city follow suit.
The National Autistic Society Scotland is keen to support more organisations to become autism-friendly.
To find out more about the award, please visit www.autism.org.uk/autismfriendlyaward