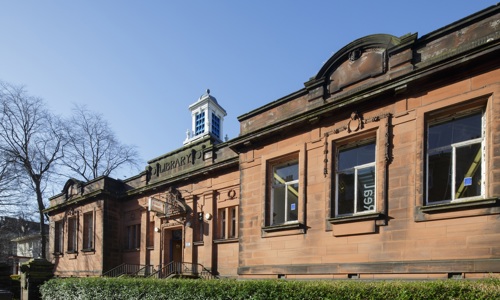 Glasgow Life confirms next phase of re-opening, with more libraries to open in early 2021
Glasgow Life confirms next phase of re-opening, with more libraries to open in early 2021
Glasgow Life has today announced the next phase of its approach to reopening buildings in the wake of the coronavirus pandemic.
The charity, which delivers culture and sport in the city, confirmed that a further 12 community libraries will reopen to the public in early 2021, bringing the total number open to 23.
The following libraries will open by the end of March, depending on localised health and infection rates and subject to Glasgow being in, or below, level three of the Scottish Government's local Covid protection levels: Anniesland Library, Cardonald Library, Castlemilk Library, Dennistoun Library, Govanhill Library, Hillhead Library, Knightswood Library, Langside Library, Pollok Library, Pollokshields Library, Riddrie Library and Springburn Library.
Councillor Susan Aitken, Leader of Glasgow City Council, said: "Everyone deserves the best Glasgow life possible and the opportunities provided by our libraries are central to our aspirations. They are cherished and valued by our citizens and the services they provide offer a lifeline to many. As we recover from the pandemic our libraries will be more vital than ever.
"I'm delighted that more than 8,000 new members have signed up to Glasgow Libraries since the spring. Glaswegians thrive on access to the power of reading, information and discovery as much today as they have done for the past 150 years.
"Whilst suppressing the spread of the virus in our communities must remain the first priority and each reopening must be carefully assessed, we're committed to reopening our facilities as soon as is safe. I'm pleased that the next phase will see a further 12 community libraries soon able to welcome and support people across our city."
Councillor David McDonald, Depute Leader of Glasgow City Council and Chair of Glasgow Life, added: "Taking a phased approach to reopening has allowed Glasgow Life to understand how best to operate our venues in a Covid-19 environment; keeping staff and visitors safe while we are adjusting to the new measures that we've had to put in place.
"These have been valuable lessons to ensure that people can feel confident about re-engaging with our services. Whilst visits may look a little different as we work to ensure that the venues are safe for our staff and visitors in the weeks and months ahead, all are welcome to come and use our libraries and benefit from their services."
More than 8,400 people have joined Glasgow Libraries since the beginning of spring and, with more libraries set to open city-wide, customers will once again be able to refresh their reading materials at their local library. There's no need to make an appointment to borrow a book from any of the reopened Glasgow libraries, although you may need to queue due to restricted numbers. All overdue library fines will also be waived until end of March.
In what has been a difficult year for many, more than 200 Glasgow Libraries customers took part in a survey which revealed why local libraries are important to the people of Glasgow.
One Pollokshaws Library user, said: "I really need the library due to my mental health and I really missed seeing people. All the staff have been amazing and made me feel safe and welcomed."
Another library user, who visited Drumchapel Library, said: "I use the library daily. I missed the contact with staff and using the computers. The staff in Drumchapel Library make it a wonderful place to visit."
In addition to book borrowing, library visitors will once again be able to access computers and the internet for free, with printing available at all re-opened libraries.
A number of the community libraries will provide in-person employability support and financial inclusion advice through the Family Finance scheme. Telephone appointments and face-to-face support with accessing Universal Credit will also be available at selected libraries city-wide in early 2021.
Macmillan at Glasgow Libraries will continue to offer telephone appointments to provide practical and emotional support to people affected by cancer, with face-to-face appointments planned to resume at a number of libraries in early 2021.

In addition to the planned reopening of a further 12 community libraries, Glasgow Life has already reopened 11 libraries, three museums, Tramway, 12 Glasgow Club venues, 58 sports pitches, 19 outdoor and indoor tennis courts and two golf courses, to the public.

However, as is mandatory under level four of the Scottish Government's strategic framework for managing Covid-19, these venues are temporarily closed until Saturday 12 December.

As well as running community libraries, Glasgow Life operates the city's culture and sport services, from museums, music venues and community centres, to gyms, outdoor sporting activities and sports centres. The charity also delivers events, from grassroots programmes designed to engage the city to those which put Glasgow on the international map. These activities are designed to enhance the city's mental, physical and economic wellbeing.
Like many organisations, Glasgow Life has been hit hard by the pandemic. The complete shutdown of its venues in line with Government guidance, together with the cancellation of events and festivals has meant millions of pounds of income is no longer available. Glasgow Life is currently predicting a year-end shortfall in budget of £20.3m as a result of the pandemic. The charity is being supported financially by Glasgow City Council to continue to deliver services and open venues where this is viable.
As a result, the charity continues to be prudent and responsible financially while working to ensure, as far as possible, that its resources are used to the greatest effect across the city.
Increased costs are also impacting on the charity's ability to re-open venues and deliver services. All Glasgow Life buildings are having to be reconfigured to ensure they are compliant with Covid-19 regulations, and need to be thoroughly risk assessed before they can re-open.
In libraries, one-way systems have been introduced, alongside hand-sanitising stations, screens, signage, and a booking system at the Mitchell; all of which are there to help protect both visitors and staff. In every venue that has reopened, capacity is, by necessity, much lower than usual.