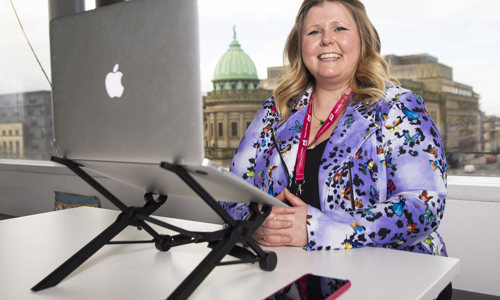 Glasgow Life helps more than 300 new businesses during lockdown
Glasgow Life helps more than 300 new businesses during lockdown
Glasgow Life, the charity that delivers culture and sport in Glasgow, has helped more than 300 entrepreneurs to start, run or grow their business since lockdown began on 23 March 2020, thanks to its Business and Intellectual Property (IP) Centre.
Based in the city's Mitchell Library, and online, the Business and IP Centre, part of the British Library's Business and IP Centre National network, offers access to business resources, support from experts and advice from partner organisations serving as a one-stop-shop for new and growing businesses in the city.
With the move to online shopping accelerated by the Covid-19 pandemic, the Centre is now offering free online training sessions for sole traders and micro-businesses to help them to develop their digital skills and productivity, and reach their customers online, through the Power Up initiative.
Councillor David McDonald, Chair of Glasgow Life and Depute Leader of Glasgow City Council, said:
Glasgow was the first city in Scotland to join the British Library's UK-wide Business and IP Network, enabling us to support everyone in the city who has a great business idea.

With the coronavirus pandemic accelerating the importance of a digital presence for all businesses, I'm delighted that our Business and IP Centre is able to reach small business owners and give them the tools they need to reach their customers and develop their businesses in these difficult circumstances. By offering these free online Power Up sessions, it is my hope that many entrepreneurs will feel confident and empowered to continue to grow and develop their businesses.
Delivered by Glasgow Life, Power Up is an initiative by the Good Things Foundation, with the financial support of J.P. Morgan Chase Foundation. Power Up seeks to create a more inclusive digital economy by powering up people, provision and places; taking digital skills to those who need them most.
Offering support in developing skills in four key areas – web presence, selling online, digitisation of back office functions, using clouds – the free, interactive sessions have been supporting those looking to ensure that their business does not become a casualty of the pandemic.
Sooz Young from Technology Coaching Ltd has been delivering the digital Power Up sessions on behalf of Glasgow Life. Sooz explains:
Having an effective online presence has always been important for businesses, but the impact of the coronavirus pandemic has resulted in it becoming essential.

This change has happened almost overnight, as traditional shopping has become more difficult, businesses are needing to find ways to engage with their customers in their own homes.

Since lockdown we've noticed that all kinds of people are looking to set up their own businesses, and through Power Up we have been able to provide Glasgow's sole traders and micro-businesses with a fantastic opportunity to develop their digital business skills for free.
According to the Office of National Statistics, the number of new companies created in the latter half of 2020 soared in comparison to the same time in 2019.
The Covid-19 pandemic has also sparked a retail transformation in the UK, accelerating some of the key digital trends that were already underway.
In May 2020 the BT Group polled more than 1000 firms in Small Business Britain's UK community and found that many across the sector were actively embracing digital tools to power recovery. Two fifths (42 per cent) of small businesses have made the move online due to the pandemic and over a third (39 per cent) now view digital skills and tools as a key focus area for their business.
More than 200 people have already tuned into Glasgow's online Power Up sessions. Lynne from Sandyhills, who launched her business Extincts in 2018 and attended the Power Up sessions, said:
Extincts is primarily a digital experiences company. We are a Community Interest Company meaning our profits go to conservation charities and we do everything we do because we want to make a positive impact on our planet.

We are still in the start-up stage as we have been taking things slowly, learning how to do stuff and testing different approaches.

I'm a fan of life-long learning and I enjoy web-based learning. There are always new things to learn in the digital space so it's good to keep up to date on potential improvements.

I have attended courses before and have been using digital tools for my business for some time. These Power Up sessions with the Business and IP Centre definitely bolstered my confidence and are consolidating my understanding of the digital realm.
Adam Micklethwaite, Director of Digital Social Inclusion, Good Things Foundation, said:
Power Up recognises that digital skills are fundamental for economic participation and progression, including sustaining or growing a small business. It's never been more important for businesses to use digital effectively: 47% of those we surveyed in 2020 reported a significant loss of income since the Covid-19 pandemic began. Power Up is there to help businesses that are not online or making full use of technology.
In addition to Power Up sessions, Glasgow's Business and IP Centre harnesses the expertise of local public and private business, and works with regional partners such as Scottish Enterprise, Business Gateway, the Chamber of Commerce, local universities and colleges and Glasgow-based enterprises to deliver a programme of free and low-cost workshops and events for anyone thinking of starting or growing their business.
To book your place at any of the Power Up sessions, or to find out more about the Business and IP Centre's free resources, please visit www.glasgowlife.org.uk/bipc