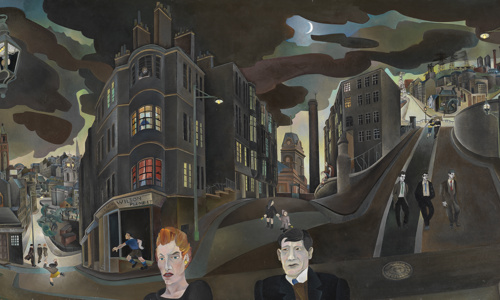 Glasgow Life Museums acquires famous oil painting by legendary Scottish artist Alasdair Gray
Glasgow Life Museums acquires famous oil painting by legendary Scottish artist Alasdair Gray
Alasdair Gray's iconic painting, Cowcaddens Streetscape in the Fifties, has been added to Glasgow Life Museums' collection.
Painted in 1964, it is one of Gray's best-known works and what he referred to as "my best big oil painting".
The work was also a key part of the artist's retrospective – From The Personal To The Universal – which was curated by Sorcha Dallas at Kelvingrove Art Gallery and Museum in 2014 as part of the wider Alasdair Gray Season she devised.
This addition has been made possible through the generous support of The National Fund for Acquisitions, administered with Scottish Government funding by National Museums Scotland.
Cowcaddens shows life in an area of Glasgow where the landscape and community changed radically post-war.
The work captures the look and feel of daily life in Cowcaddens and is a powerful way of engaging with Glasgow's past. It highlights how buildings, streets and people give the place its character.
Before display at Kelvingrove Art Gallery and Museum the painting will be conserved at Glasgow Museums Resource Centre where academics and fans will be able to see it through tours and research appointments.  
Bailie Annette Christie, Chair of Glasgow Life, said:
"This painting is a remarkable addition to our collection of works by the legendary Alasdair Gray. It is a powerful image of Glasgow by an artist with strong links to the city and belongs in a public collection where Glaswegians and visitors can enjoy it. Acquisitions like this strengthen Glasgow's world-class museum collections. They also help people to get involved in and feel inspired by the culture our city has to offer."
Hazel Williamson, National Fund for Acquisitions Manager, said:
"We're delighted to support the acquisition of this important work by Alasdair Gray, one of the most significant figures in Scottish art and literature during the post-war era. His art and writing articulated the identity of Glasgow and its people, and it is therefore particularly fitting that the painting should find a home in the city collection."
The Estate of Alasdair Gray said:
"I am thankful for the City of Glasgow purchasing the Cowcaddens Streetscape on behalf of the citizens of Glasgow, Scotland and art lovers around the world. The mural is bold and innovative in its use of altered perspective and time shift to portray the city and the stages of life of its inhabitants."
The Alasdair Gray Archive said:
"The Alasdair Gray Archive (AGA) is delighted that Glasgow Life Museums has acquired 'Cowcaddens Streetscape in the Fifties'. This is Alasdair Gray's most significant painting, and it is timely that it is now housed within the city's main public galleries. This work was inspired by the landscape of Garnethill and the canal near where AGA is based at Applecross."
The previous owner of Cowcaddens Streetscape in the Fifties, Angela Mullane refers to her friend's own words to talk about the importance of this work for Glasgow and Kelvingrove Art Gallery and Museum:
"I started making maps when I was small showing places, resources, where the enemy and where love lay" Alasdair Gray, Lanark.
"One day Mum put some of my scribblings in a handbag and took me by tram to Kelvingrove. She had read in a newspaper that Miss Jean Irwin held an art class on Saturday mornings in Kelvingrove… I drifted around looking at what these kids painted while Mum showed my scribbles to Miss Irwin, who let me join her class.
"For the next five years, Saturday mornings were my happiest times" Alasdair Gray, A Life in Pictures.
Alasdair Gray (28 December 1934-29 December 2019) was one of Scotland's most multi-talented artists.
He was born in Riddrie in the east of Glasgow and attended The Glasgow School of Art (GSA) in the 1950s.
Cowcaddens is a significant example of his painting within the decade following his graduation from GSA in 1957.
Gray was a prolific poet, playwright, novelist, painter, and printmaker whose work continues to be celebrated in books, exhibitions, conferences, and the annual Gray Day (25 February).
He credited his fledging love of painting to a weekend art class at Kelvingrove Art Gallery and Museum. 
The addition of Cowcaddens enhances the holdings that were previously acquired or gifted from the artist to Glasgow Life Museums.
This includes City Recorder (1977–78) and the Moira McAlpine Bequest 2015.
It joins artworks in the collection by his peers and friends at GSA – Carole Gibbons and Alan Fletcher – and works relating to the documentation of Glasgow through the fine art holdings.