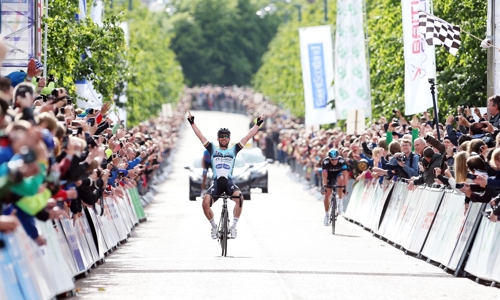 Glasgow Maintains its Place as One of The World's Ultimate Sports Cities
Glasgow Maintains its Place as One of The World's Ultimate Sports Cities
Glasgow has maintained its place as one of the world's top five Ultimate Sports Cities of 2018 as London was named at the top of SportBusiness International's global ranking. The announcement took place at an award ceremony in Bangkok where the SportAccord Convention is taking place. Glasgow won the award for the world's the Best Small City for hosting sporting events, while joining with New York, Melbourne and Auckland, as contenders for the overall prize won by London.
Glasgow was nominated in further categories including Best Marketing/Branding, Best Venues and Best Legacy. The Best Small City category is for cities with a population of less than 1.3 million – Glasgow's population is less than half of that, at around 600,000.
Councillor David McDonald, the Chair of Glasgow Life and Depute Leader of Glasgow City Council, said:
There's no doubt that we're world leaders and world beaters when it comes to hosting major sports events. We have the venues, we have the hotels and attractions, but most importantly we have the people – those who are experts at staging great events and the people of Glasgow who provide the enthusiastic support to competition and an unrivalled welcome to our great city.

"It's been almost four years since we hosted what was the best ever Commonwealth Games. Since then, we have hosted numerous national, European and world championship events. We're counting down the days to the inaugural Glasgow 2018 European Championships where once again the city will be transformed by sport and culture.
Adam Nelson Commissioning Editor, at SportBusiness International, said:
Glasgow is an all-rounder when it comes to hosting major sports events, choosing ones that fit carefully devised objectives while at the same time showcasing a vibrant sports-mad city. The legacy benefits of the 2014 Commonwealth Games will continue for generations to come and are to be applauded and admired.
Since hosting the Commonwealth Games in 2014, Glasgow has welcomed the World Gymnastics Championships in 2015, World Badminton Championships in 2017 and following the inaugural 2018 European Championships, the city will play host to the European Athletics Indoor Championships and European Short Course Swimming Championships in 2019 and the World Men's Curling Championship in 2020. The city is also a host for UEFA European Championships competition in 2020. The city will continue to hold regular gymnastics, cycling and swimming championships and mass participation sport events, such as the Great Scottish Run and Womens' 10k.
The SportBusiness Ultimate Sports Cities Awards are the internationally recognised and longest-established rankings of the world's top sports hosts. The have been held every two years since 2006 when they were founded by SportBusiness International. Full details of individual rankings within the top five cities will be announced in June 2018.