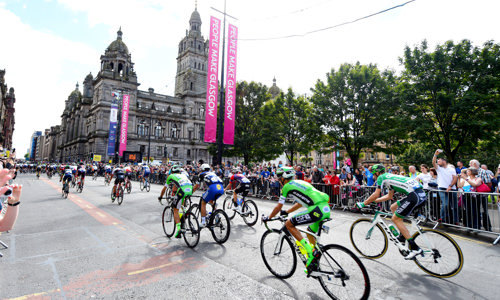 Glasgow receives Scotland's first UCI Bike City Label
Glasgow receives Scotland's first UCI Bike City Label
Recognising the city's cycling achievements, Glasgow was awarded the UCI Bike City Label during the 2019 UCI Road World Championships in Yorkshire.
On the banks of the river Clyde, Scotland's most populous city Glasgow, is undertaking a shift towards cycling - with the city ambitions supported in part, by the hosting of inspiring major events. Recognising the city's cycling achievements, Glasgow was awarded the UCI Bike City Label during the 2019 UCI Road World Championships in Yorkshire.
With the vision: to create a vibrant cycling city where cycling is accessible, safe and attractive to all, the city has set itself a target of 10% modal share for cycling. While 6% of people in Glasgow usually or regularly travel to work by bike, the city's Strategic Plan for Cycling 2016-2025 is ensuring a joined up approach to raise the numbers of everyday cyclists - riding for whatever reason. The precursor to the current cycling strategy, launched in 2010, was linked to the hosting of the 2014 Commonwealth Games - and helped see cycling increase by an impressive 200%, double spending, and grow the Cycle Network over 300km!
Vision and campaigns 
A key part of the strategy has been the plan to build a network of protected, segregated cycling routes; with £17m having been dedicated towards cycling infrastructure projects over the past four years. In fact, since 2006 the cycling network has expanded by 160%, with works going on across the city, designed to open up access to the centre, and create routes for cycling for all communities. The city is moving towards a target of a 400km bicycle track network being in place by 2025. Info on up and coming and projects already in development can be viewed on the official Glasgow City Council web page.
Assisting work to make cycling safer, over 12% of city roads are 20mph zones - and co-operation between the city and police sees road safety campaigns regularly promoted. 
Investment is being made in sport infrastructure for almost all cycling disciplines, while a £4.8m partnership between Glasgow Sport, HSBC, British and Scottish Cycling will run until 2025, to support cycling amongst young people from under-represented groups. Each year the British Cycling Let's Ride closed road event takes place with 13,000 participants - providing an accessible way for new and old riders to experience cycling in a fun, car free atmosphere.
Awarded the Label
Speaking as the city received the UCI Bike City Label, Councillor David McDonald, Deputy Leader of Glasgow City Council and Chair of Glasgow Life, said: "We are delighted to be the first city in Scotland to be awarded the UCI Bike City label, and just the second in the UK after our friends in Yorkshire.
"As the only city in the world capable of hosting all four Olympic cycling disciplines within the city boundaries, Glasgow is in a unique position to offer citizens the chance to practice, train, and improve their cycling skills on world-class facilities which are also regularly used by elite athletes. We know there is an intrinsic link between major events and an increase in grassroots sports, and spectators at elite cycling events are more inspired and motivated to either try out or get back into cycling themselves.
"Over the last ten years Glasgow has enjoyed a real surge in the number of people taking up cycling for a variety of reasons, from leisure to commuting, and we want to continue this growth well into the future. Both the 2023 UCI Cycling World Championships and the new UCI Bike City label will help us achieve that goal."
Paul Bush OBE, VisitScotland's Director of Events, said: "To be the first city in Scotland and only the second in the UK to be awarded the UCI Bike City Label is a wonderful accolade for Glasgow. It recognises the city's commitment to delivering both world-class cycling events, and an ongoing legacy from each one they host.
"Events play a key role in our society by helping to bring strong social and economic benefits to communities and the country as a whole. Today's announcement will further enhance the work being done in Glasgow through their Strategic Plan for Cycling 2016 - 2025 and as we look ahead to the 2023 UCI Cycling World Championships where the Championships will be the centrepiece for accelerating a range of local and national policy initiatives across areas such as health, transport and sport."
First ever UCI Cycling World Championships
With Glasgow and Scotland set to host the first ever UCI Cycling World Championships in 2023, it is expected that the Championships will be as inspiring and impactful as past events. In fact, the city's credentials for utilising sports events as vehicles for the promotion of sport and active travel was underscored when Glasgow was named Best City for Legacy in the SportBusiness Ultimate Sports City Awards 2018. While it may still be early days, great legacy and Cycling for All actions can be expected by this cycling city to celebrate the Championships.