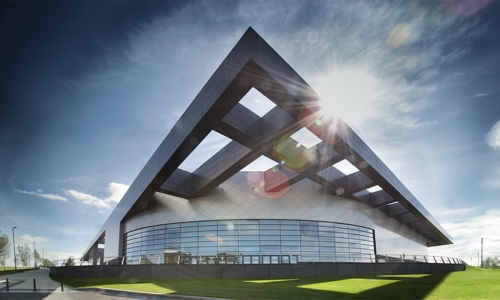 Glasgow's Emirates Arena celebrates 10th anniversary as three-millionth visit approaches
Glasgow's Emirates Arena celebrates 10th anniversary as three-millionth visit approaches
Glasgow's Emirates Arena has double cause for celebration as the world-class facility marks its 10th anniversary ahead of recording three million visits.
Glasgow Life, the charity responsible for culture and sport in the city, runs the arena, which has hosted some of Scotland's and the UK's biggest sporting moments and events over the last decade.
Among the most notable events to have been staged there so far are the 2014 Commonwealth Games, Davis Cup fixtures (2015, 2016, 2018 and 2022), the 2017 Badminton World Championships, the inaugural 2018 European Championships and the European Athletics Indoor Championships in 2019.
First opened 10 years ago today (6 October) by Olympic gold medallist Sir Chris Hoy, the Emirates Arena is expected to clock its three-millionth visit by February or March 2023. Over the course of the last decade, it has staged more than 500 local, national and international events.
Boasting the Sir Chris Hoy Velodrome, three sports halls, a dance studio, spa, outdoor five-a-side pitches and one of the city's largest Glasgow Club gyms, the facility's multi-purpose spaces have also enabled thousands to take part in cycling, gymnastics, athletics, tennis, basketball, football and netball.
The Emirates Arena's health, fitness and well-being facilities continue to provide its local community with opportunities to become engaged and active in sport: of the 2,500-plus people who use its Glasgow Club facilities, almost a third live within a mile of the venue, while more than half stay within a three-mile radius.
Since first welcoming spectators through its doors on 7 October 2012 for a Glasgow Rocks basketball match against Newcastle Eagles, the venue has gone on to host around 50 to 60 events each year, including grassroots competitions such as this year's Scottish Schools Indoor Track and Field Championships.
The Emirates Arena has earned a reputation as a state-of-the-art sporting centre, having welcomed elite-level athletes and witnessed some of Scottish and British sport's greatest feats in modern times, from Team GB Commonwealth Games gold medal wins to Sir Andy Murray inspiring Great Britain to semi-final victory over Australia on the way to winning the 2015 Davis Cup.
The Emirates Arena will build on its standing as a home of sporting excellence when it stages next year's inaugural UCI Cycling World Championships and the World Athletics Indoor Championships in 2024.
Bailie Annette Christie, Chair of Glasgow Life and Convenor for Culture, Sport and International Relations for Glasgow City Council, said:
"In its first decade, the Emirates Arena has welcomed some of the world's finest athletes and sporting contests to Glasgow, with the first-ever UCI Cycling World Championships in 2023 and 2024 World Athletics Indoor Championships set to follow.

"Its state-of-the-art facilities also played a pivotal part in Glasgow being named European Capital of Sport 2023, as our city became the first to take the title twice. The Emirates Arena has become a sporting venue of international fame, and it will continue to perform a crucial role in demonstrating Glasgow's commitment to supporting grassroots level sport and attracting major sporting events."
Billy Garrett, Director of Culture, Tourism and Events, Glasgow Life, said:
"Glasgow is globally renowned for culture and sport, and the Emirates Arena has significantly strengthened our city's top-class offering of sporting facilities over the last 10 years. As the heart of Glasgow's sporting prowess, the Emirates Arena has taken on an ambassadorial role for the city and elevated its status as a major event destination, while also providing the local community with a range of opportunities to get active."