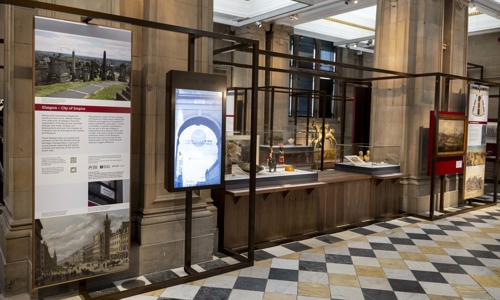 New exhibition at Kelvingrove Art Gallery and Museum explores Glasgow's links to slavery and Empire
New exhibition at Kelvingrove Art Gallery and Museum explores Glasgow's links to slavery and Empire
A new exhibition looking at Glasgow's links to transatlantic slavery and colonialism has opened at Kelvingrove Art Gallery and Museum.
Glasgow – City of Empire explores how the city's past and present have been heavily shaped by histories of slavery and Empire, and their legacies.
Glasgow Life, the charity that delivers culture and sport in the city, has confirmed the exhibition is free to visit and will open to the public from Friday 3 November.
The exhibition, which is in the South Balcony, has been co-curated with the Our Shared Cultural Heritage (OSCH) Changemakers.
The Changemakers are a group of young people who explore the shared cultures and histories of the UK and South Asia.
Glasgow – City of Empire builds on the work already underway at Kelvingrove, supporting a better understanding of Glasgow's role in slavery and the British Empire. This has included adding new interpretation labels as well as events and tours.
The new display also features digital resources, including audio-visual installations, QR codes pointing to online content and a Smartify audio tour.
Duncan Dornan, Head of Museums and Collections at Glasgow Life, said:
City of Empire represents a significant step in the way Glasgow Life Museums can better address the histories and legacies of transatlantic slavery and British colonialism. This is a vitally important topic and one that we know our visitors are keen to see better represented throughout the museum. People should be able to learn more about Glasgow and our history.

The exhibition aims to build on the initial legacies of Empire work in Kelvingrove to highlight and explore histories that are essential to understanding Glasgow. Through a selection of objects from our collection we have been able to work with partners to develop a new interpretation and deliver an engaging exhibition.
Nelson Cummins, Curator of Legacies of Slavery and Empire at Glasgow Life Museums, said:
It has been a rewarding experience working on Glasgow – City of Empire; a display that is the product of lots of hard work by colleagues across Glasgow Life Museums and the young people from the OSCH Changemakers. The exhibition explores Glasgow's connections to transatlantic slavery and the British Empire and how they impact the city's past and present. Its opening is a significant part of our efforts to address the way Glasgow Life Museums and the wider city of Glasgow have been shaped by slavery and empire and their legacies.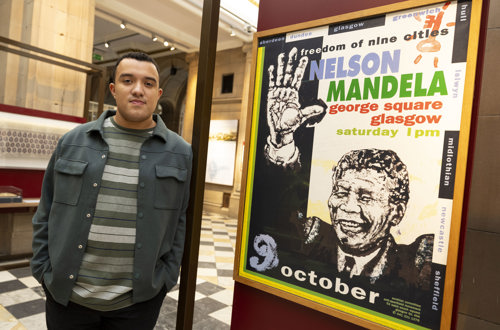 The OSCH Changemakers said:
We are absolutely thrilled to be unveiling the Glasgow – City of Empire exhibition. Part of our work as the Glasgow OSCH Changemakers is exploring what it means to decolonise museums as institutions and we hope that many people, especially people of colour living in Glasgow, benefit from seeing a display that accurately reflects the lived realities of people of colour, both historically and currently.

This display allows the public to see the importance of including young people of colour's voices in exhibitions of this nature while combating the collective amnesia in Scotland regarding atrocities such as transatlantic slavery and British colonialism.
Presented alongside Glasgow – City of Empire, is Anam Ki Almari (The Trophy Cupboard) by Aqsa Arif. Arif has been the University of the Arts London's (UAL) artist-in-residence for Kelvingrove since August 2022 as part of the UAL's 20/20 project. Anam Ki Almari presents the culmination of her research into Glasgow Life Museums' collection.
Aqsa Arif, 20/20 artist-in-residence at Kelvingrove, said:
I am absolutely delighted to be showcasing, Anam Ki Almari at Kelvingrove Art Gallery and Museum. This work has been a culmination of a year-long residency at Kelvingrove, supported as part of the national commissioning project, 20/20, by UAL's Decolonising the Arts Institute.

The film installation and ceramic works delve into themes of South Asian ornamentalism with the museum, uncovering the narratives behind the objects within their collections. Exploring South Asian rituals, traditions, and the collective act of creation has been a profoundly cathartic way to challenge and reclaim the colonial gaze.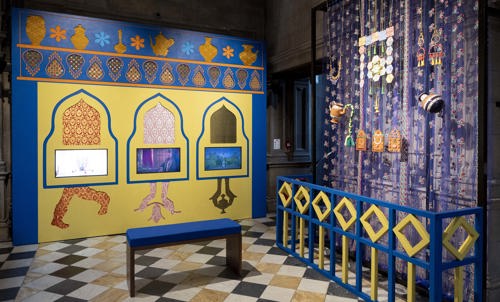 The Glasgow – City of Empire exhibition is open Monday to Thursday and Saturday from 10am to 5pm and Friday and Sunday from 11am to 5pm.