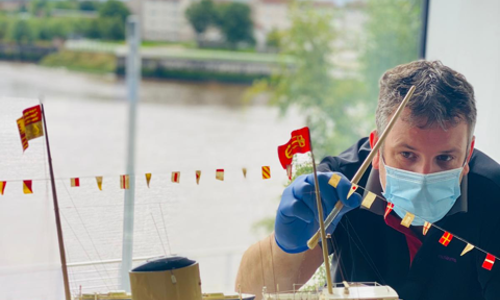 Online Glasgow Life services booming over last six months
Online Glasgow Life services booming over last six months
Vital health and wellbeing services delivered by Glasgow Life have been used over a million times since lockdown began six months ago.
Online versions of the activities and programmes 75 percent of Glaswegians rely on and enjoy, has ensured the charity continues to help transform lives during the most difficult of times.
More than 70,000 users accessed free online workouts via the incredibly popular Glasgow Club app, since venues had to close at the end of March. In that time nearly 1.5 million views of fitness sessions have been delivered via social media, with an average of 67,500 views each week. The most popular classes involve high intensity interval training.
Glasgow Life is the charity which brings extra meaning to the lives of people who live in or visit the city through sport, culture, events and learning.
Thousands of people have used the wide-range of library services available, to help with the very different way of life everyone has experienced this year. More than 5,000 new members have joined Glasgow Libraries, since the beginning of spring.
Almost 160,000 e-books, e-magazines and e-audiobooks have been downloaded. That figure increases by a further 100,000 downloads when you include music streaming.
Like reading, Glaswegians love culture. The city's museums are the most-visited in the UK outside of London. Despite lockdown, people continued to access online Glasgow's incredible art, world-class transport collection and natural history highlights from around the globe.
Producing more online content, based on Glasgow's outstanding museum collection, proved popular. Engagements on Glasgow Museums' social platforms increased by a staggering 400% since the start of April.
Collections held within Glasgow's archives, libraries and museums are some of the most reliable and engaging records of previous crisis. They also help us to understand and come to terms with the present by comparison with the past. Over 50 people responded to a museums callout to help develop a priority list of items that will eventually tell the story of how Coronavirus impacted on Glaswegians, allowing future generations to look back and understand the experience we are currently living through.
Across summer, festival organisers worked with Glasgow Life on a series of online performances. Together they brought a flavour of much-loved events, which usually light up our streets and parks across the city, to people in their own homes.
Surge presented a full day of free performance and music via merchantcityfestival.com which had been due to be performed live. Scotland's biggest multicultural festival, The Glasgow Mela, is swapping stage for screen, delighting followers with a 10 day programme of musical performance, dance extravaganzas and cooking spectaculars taking place until 30 September.
Councillor David McDonald, Chair of Glasgow Life and Depute Leader of Glasgow City Council said:
Glasgow Life's mission, as one of the biggest charities in Scotland, is to inspire people in the city to lead richer and more active lives through culture, sport and learning, so I am delighted such large numbers of people have accessed our online services during lockdown. We are proud of the offering we provide through museums, sport, cultural events and communities. These facilities and services play a significant role in improving health and wellbeing and Glasgow is a better city for having access to them.

This pandemic changed everything for everyone. For Glasgow Life it meant a re-imaging of some services. You can stay active with Glasgow Club by using online fitness programmes at any time. Glasgow Libraries provides 24 hour access to thousands of e-Books as well as audiobooks to listen to and magazines to read, and, through social media, we have been able to share some of the delights of the 1.6 million objects in the museums' collection.

These usage figures underline the love for and the value of the services we provide. Despite current challenges we are committed to ensuring Glasgow remains a vibrant and fulfilling place to live, work and visit, during and importantly post Covid-19
Since July, in line with Scottish government guidance Glasgow Life has begun to reopen venues on a phased basis.
Seven libraries, two museums and seven Glasgow Club venues are open to the public, with more libraries, sports centres and the Gallery of Modern Art scheduled to reopen in the coming weeks. The charity continues to work with Glasgow City Council to review and prioritise when and where further venues and services can restart.
Visitor figures have grown steadily since the public has been able to return to the city's libraries, football pitches and gyms and the iconic Kelvingrove Art Gallery and Museum and Riverside. An indication of increased customer confidence is evident at museums where available tickets to pre-book entry to Kelvingrove Museum were reserved on 37 of the 42 days since reopening, with each of the other five days registering more than 90% capacity.
The city is being promoted through People Make Glasgow digital channels in a way that is appropriate for consumers at this time. By creating and sharing inspirational content throughout this period, we have been able to profile businesses and keep Glasgow front of mind among target audiences. 
#GlasgowIsOpen was launched by Glasgow Life on 15 July to coincide with the reopening of the tourism sector in Scotland and has been achieving excellent industry and consumer engagement to date.  Its focus has been local and day trippers from west central Scotland reached through a launch film, targeted digital activity, radio promotions and media outreach. The campaign provides a mechanism for city industry to unite behind a shared campaign framework and businesses have been encouraged to adopt the hashtag, and to share content with their audiences.
Councillor David McDonald, Chair of Glasgow Life and Depute Leader of Glasgow City Council continued:
Glasgow Life is constantly updating our offering in line with the latest government advice so we can continue to help people and provide the services they rely on. Only last week we launched a new, three-tiered, Glasgow Club online membership. I am confident such initiatives will ensure people continue to have access to the services they need and to lead richer and more active lives through culture, sport and learning.

As it has been from the outset, the safety of the public and our staff will remain at the heart of our decision-making. We would like to thank them for their understanding, support and commitment over the last six months.
As one of Scotland's largest charities, Glasgow Life is at the heart of Glasgow's communities, delivering some of the city's most used services. In 2019/20, more than 18m attendances were recorded across its venues and events. Help us continue our work by donating here https://www.glasgowlife.org.uk/support-us