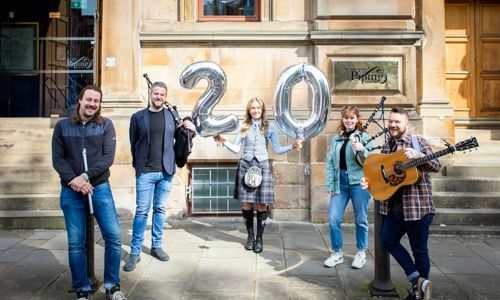 Piping Live! gets set to celebrate its 20th year
Piping Live! gets set to celebrate its 20th year
Piping Live! will return for its 20th edition this summer with an eclectic calendar of events from Saturday 12 - Sunday 20 August.
The world's biggest piping festival annually attracts over 30,000 attendees to Glasgow and this year the Piping Live! team hopes to bring in even more visitors, as it celebrates two decades as a cornerstone on the Scottish cultural calendar. General tickets go on sale 10am, Friday 19 May.
Finlay MacDonald, Artistic Director for Piping Live!, said:
We are delighted to be launching the 20th edition of Piping Live! It's incredible to think back on how much the festival has grown in the last 20 years. I'm extremely proud to be involved in the direction of what is now a major cultural and musical event for Scotland, and the global piping and traditional music scene.

Piping is more popular than ever, there are more people from diverse backgrounds playing, the music is both steeped in tradition as well as forward-looking and innovative. This rise in popularity is in no small part down to the continued support from our audiences and the dedication of the teams behind Piping Live! and the World Pipe Band Championships. There's a real energy in the piping and drumming scene in anticipation of Piping Live! this year. Glasgow is certainly going to be alive with music, friendship and camaraderie.

The team here at the National Piping Centre have been working tirelessly to deliver the festival this year, despite some substantial funding cuts across the cultural events industry, so we really need public support now more than ever – please purchase tickets, please donate what you can and please encourage others to come out and enjoy the world-class performances we will be showcasing this August. Never has your support been more vital in ensuring this iconic festival, and the scene it supports, continues to thrive.
Bailie Annette Christie, Chair of Glasgow Life and Glasgow City Council Convenor for Culture, Sport and International Relations, said: 
As a UNESCO City of Music, Glasgow is renowned as an outstanding destination for lovers of all types of music, and there's certainly no better to place to experience world-class piping, with Piping Live! and the World Pipe Band Championships – the pinnacle of the piping competition calendar – both taking place in the city this August.

These firmly established highlights of our vibrant summer events programme are extremely important to Glasgow. Attracting thousands of musicians, supporters and spectators from around the world, they showcase the city, boost its international profile and contribute greatly to its visitor economy. We are therefore pleased to continue our support of both global piping extravaganzas and look forward to welcoming audiences from near and far to this year's exciting events.
The Piping Live! Closing Concert will round off the 20th edition with performances by some festival favourites, including the hugely talented multi-instrumentalists Ross Ainslie and Ali Hutton, who have been involved with Piping Live! since its earliest days. The duo will perform a double header show with Uilleann piper Jarlath Henderson, who performed at the first Piping Live! festival, and guitarist Innes Watson.
The Pipe Major Alasdair Gillies Memorial Recital Challenge, Piping Live!'s flagship evening of solo piping, will be showcased at the Glasgow Royal Concert Hall's Strathclyde Suite this year. The competition will pit five top solo pipers against each other as they take to the stage to perform a 25-minute medley of their favourite tunes. Annually a sell-out success, performances this year will come from Angus MacColl, Stuart Liddell, Sarah Muir, Callum Beaumont and the 2022 champion Matt MacIsaac.
The International Quartet Competition will feature six of the top Grade I pipe band quartets in the world; Field Marshal Montgomery (Northern Ireland), Inveraray and District (Scotland), Manawatu Scottish (New Zealand), 78th Fraser Highlanders (Canada), Shotts and Dykehead Caledonia (Scotland) and People's Ford Boghall and Bathgate Caledonia (Scotland). Each of the six bands from across the world will send four of their best pipers to compete in this head-to-head challenge ahead of the World Pipe Band Championships on 19 August. There will be five hidden judges listening to an MSR and Medley event in the Strathclyde Suite on 15 August.
The show Canntaireachd will also take place on 15 August. This exciting new collaboration between multi-award winning singers and pipers Kim Carnie (vocals), Kathleen MacInnes (vocals), Brìghde Chaimbeul (small pipes and bagpipes) and Ailis Sutherland (small pipes and bagpipes) will join forces with the formidable collective Staran. Celebrating and exploring the relationship between piping and Gaelic song, the project will breathe new life into centuries old songs, tunes and stories with new material woven throughout.
Lowland and Borders Pipers' Society presents inB, a new and exciting collaboration that celebrates the rich sounds of the Uilleann pipes and Scottish smallpipes pitched in the beautiful key of B. Award-winning musicians from Scotland Brighde Chaimbeaul and Fin Moore will perform on Scottish smallpipes that have been handcrafted especially in B by Fin. On the Uilleann pipes, Ireland's Louise Mulcahy and Tiarnán Ó Duinnchinn bring their unique approach to this musical collaboration. The powerful sound of four sets of pipes playing in harmony creates a beautifully unique tonal texture. inB celebrates the important history and musical connection between Ireland and Scotland.
The annual Friday Night Folk gig will open the final weekend of Piping Live! when the progressive Scottish Traditional music trio Project Smok will perform at Stereo. Supporting this fantastic band will be former BBC Radio Scotland's Young Traditional Musician Eryn Rae and her band.
The Masters Solo Piping Competition will take place at the National Piping Centre, with this prestigious competition being the qualifying event for the Glenfiddich piping competition. This huge day of performance will see the best soloists from across the world compete in Piobaireachd and Light Music on 14 August.
Piping Live!'s avant garde night of music, entitled Ceol Nua, will return to the festival when multi-instrumentalist Fraser Fifield and Estonian piper Caatlin Magi perform on 15 August.
Piping Live!'s final day will showcase the internationally renowned Gordon Duncan Memorial Competition. This iconic event continues to celebrate Gordon's links to Scotland, Ireland and Brittany. One Scottish, Irish, Breton and international piper will each play sets of Scottish, Irish and Breton music and the overall winner will be the best player of all three musical styles.
A plethora of free daytime events, which will primarily take place at the festival's iconic Street Café on McPhater Street, will include the 'Emerging Talent' stage where daily shows will be performed by up-and-coming trad music groups, alongside performances by international artists from Brittany, Estonia and Ireland.
The National Piping Centre's auditorium will also host the Pipe Idol Final, when four solo players aged 21 and under will compete after winning their heat earlier in the week. The much-coveted prize is a set of Reelpipes from Fred Morrison Pipes.
Pipe bands from across the globe will perform on Buchanan Street from 12 noon each day of the festival, including artists from Canada, USA, Australia, Belgium and of course Scotland.
The Gig in the Gallery series will return to Kelvingrove Art Gallery and Museum, which will host a daily recital featuring international styles of bagpipes. There will also be talks and book launches across the event, and a special gallery of photos from across the festival's 20 years will showcased at the National Piping Centre for visitors to enjoy.
Paul Bush OBE,  Director of Events at VisitScotland, said: 
EventScotland has supported each of the 20 editions of Piping Live! since 2004. I am delighted we have been on this journey with them as they mark their special occasion. Scotland is, of course, the perfect stage to celebrate the pipes and it has been wonderful to see the popularity of the instrument grow with more and more bands and spectators from across the globe now visiting Glasgow to join these festivities every year. Piping Live! presents the perfect opportunity for the people of Glasgow, Scotland and beyond to enjoy both Scottish contemporary culture and tradition at its very best.
For 2023, Piping Live! is working with a new ticketing partner to make in-person ticket purchasing as smooth as possible. Customers will be able to add all of their tickets into one basket, and there will be multi-ticket discounts available for the first time. General tickets go on sale at 10am on Friday 19 May.
Live streaming will return to Piping Live! this year, with an exciting programme of live and premiered events and concerts to be announced.
Tickets and programme information are available at www.pipinglive.co.uk.