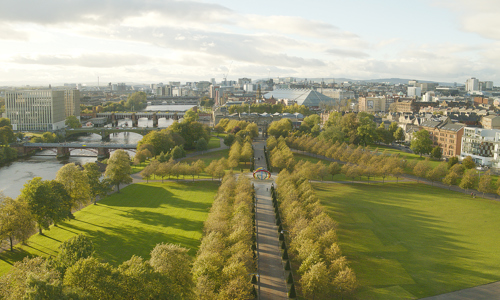 Tourism and events industry to come together for the launch of Glasgow's 2030 Tourism Strategy
Tourism and events industry to come together for the launch of Glasgow's 2030 Tourism Strategy
You can read the full Glasgow 2030 Tourism Strategy by visiting our website.
*********************************************************************************************************************
Glasgow's tourism and events industry will meet for the official launch of the city's refreshed tourism strategy.
Representatives will gather at Trades House on Thursday 26 October, to learn more about the plan and how it will strengthen Glasgow as a tourist destination.
It will be the first time the industry has come together since the strategy was approved at Glasgow City Council's City Administration Committee on Thursday 28 September.
Glasgow is a successful tourist destination, which attracted 2.65 million visitors in 2022 who stayed in the city as part of a holiday or short break.
They brought an associated spend to the city of £953 million and overnight visitors stayed for three nights on average. Additionally, the tourism sector also supports over 28,000 full-time jobs in Glasgow.*
The Glasgow 2030 Tourism Strategy outlines plans to grow the value of tourism in the city by delivering for visitors, businesses, communities, and the environment. The goal is for tourism to make an even stronger contribution to making Glasgow an attractive place for people to live in, invest in, study, meet, and visit.
Five strategic priorities have been established to meet Glasgow's new tourism vision and ambitions, which are aligned with the national tourism strategy Scotland Outlook 2030.
These priorities are:
1. Increase the value of tourism to Glasgow's economy.
2. Enhance the experiences that we offer.
3. Create value for Glasgow's people through the tourism sector.
4. Support vibrant places across the city and surrounding region.
5. Deliver tourism in a sustainable and inclusive way.
Bailie Annette Christie, Chair of Glasgow Life, said:
Tourism plays a vital role in Glasgow's economy and helps to showcase the city as a vibrant and dynamic destination. Our refreshed strategy will make sure tourism benefits and creates value for Glaswegians. Whether that's helping develop careers in the visitor economy, improving people's skills through volunteering at major events or simply providing the opportunity for people to enjoy the city's cultural life.

The strategy also focuses on enhancing the incredible experiences our city has to offer to give visitors and locals reasons to keep returning to Glasgow. This means continuing to invest in and improve our wonderful attractions and globally recognised programme of year-round events and festivals.

Sustainability and inclusivity are increasingly important for people when choosing where to travel for both business and leisure. Glasgow is already a leading sustainable tourism and conference destination and is ranked 6th in the world and 1st in the UK on the Global Destination Sustainability Index. Our strategy will build on this by supporting the industry to build a sustainable tourism sector and championing green change.
Glasgow is a contemporary and affordable city, which is attractive for today's millennial traveller. It is also a first-choice destination for more than two million tourists annually.
As a UNESCO City of Music, Glasgow has a wide variety of iconic music venues which welcome globally renowned artists throughout the year. This includes the OVO Hydro, Barrowland Ballroom and King Tuts. It is also known for its bustling nightlife and selection of nightclubs.
The city has an enviable calendar of festivals and major concerts, from Celtic Connections and the World Pipe Band Championships to Glasgow Mela and TRNSMT. Glasgow has delivered numerous major events, most recently the inaugural 2023 UCI World Cycling Championships.
It is home to world-class museums, galleries and attractions and a rich architectural heritage. Moreover, there is a thriving and diverse food and drink scene as well as a range of quality accommodations.
Bailie Christie added:
Glasgow's growing range of hotels and good transport links make it the perfect base to explore the city and surrounding areas. Our refreshed tourism plan will build on this and support continued investment in key assets such as the SEC and Glasgow Airport. We will also work with local businesses and communities to improve the appeal of the city centre and other neighbourhoods across Glasgow.
Glasgow Life has developed the refreshed tourism strategy in collaboration with VisitScotland, Scottish Enterprise, Glasgow City Council and representatives from across Glasgow's tourism business community, including Glasgow Airport.
VisitScotland's Chief Executive Malcolm Roughead is part of the Glasgow Tourism Partnership leadership group and said:
This summer, with the Banksy show attracting record numbers and the 2023 UCI Cycling Worlds wowing crowds across the city, Glasgow has yet again made headlines around the world, both as a leading cultural destination and as an expert host of major international events.

By embracing responsible tourism, this new strategy to 2030 sets out a blueprint to build on such successes and continue to bring far-reaching benefits for our visitors, businesses and the residents of neighbourhoods across Glasgow.

We will be working alongside our partners and the industry in Glasgow to help deliver the new strategy, so that tourism continues to be a force for good, creating jobs and enriching the city's communities.
Mark Johnston, Chief Operating Officer at AGS Airports which operates Glasgow Airport, said:
Strong air connectivity and a successful tourism sector go hand-in-hand, so it is welcome to see support for the airport highlighted as a priority within this strategy. As Scotland's largest city with a proud cultural heritage and an enviable list of world class attractions, Glasgow has so much to offer. This strategy sets out a clear framework to bring the public and private sector together to enhance our city's profile, attract more domestic and international visitors and in doing so, ensure local people can share in the economic and social benefits that tourism undoubtedly delivers.
Glasgow is recognised as having the UK's best Convention Bureau, as voted for by clients, responsible for securing major domestic and international conference business by working with partners such as the SEC, the city's hotel sector and universities.
In 2017, it also became the first-ever convention bureau to win a Green Tourism Award. The tourism strategy will integrate the actions set out in the Sustainable Tourism and Conventions Action Plan. This emphasises Glasgow's commitment to becoming one of Europe's most sustainable cities.
The convention bureau has also partnered with AccessAble and the Royal College of Nursing to launch the city's first access guide for delegates. The online resource gives conference attendees, with access requirements, detailed information on over 60 venues and services across the city.
The strategy will build on the success of the previous Glasgow Tourism and Visitor Plan 2017-23 and continue to strengthen our attractiveness in the years to come as a culturally rich city with an unrivalled visitor experience.
*How we are calculating our data
We are now using the Scottish Tourism Economic Impact Model (STEAM) to measure the estimated economic impact of the city's visitor economy. Many other UK cities and destinations already use this supply side model (e.g., Liverpool, Manchester, Newcastle, plus the majority of Scottish local authorities). This data provides useful baseline data and insights.