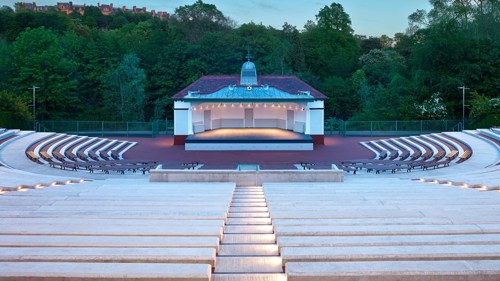 Enquire Now
Contact the venue hire team today to discuss booking Kelvingrove Bandstand.
Make enquiry
About Kelvingrove Bandstand
Built in the picturesque Kelvingrove Park in 1924, Kelvingrove Bandstand and Amphitheatre is a fantastic choice for venue hire.
This outdoor venue in the west end of the city offers a unique open air performance space in the idyllic grounds of Kelvingrove Park beside the River Kelvin within the Glasgow University quarter. 
Details of Venue Hire
Wondering if Kelvingrove Bandstand is ideal for your event? Check out this information to find out. If you've got an idea you'd like to discuss, please get in touch.
The Bandstand is an ideal location to host a variety of events from live music and dance, to theatre, comedy, film screenings, spoken word recitals and much more.
The maximum capacity of Kelvingrove Bandstand is 2366.
Encore Catering can provide an onsite service if required.
We would encourage promoters to bring their own concessions and facilities. The public toilets are run by LES and are not part of the site so portable toilets are necessary.
Kelvingrove Bandstand can supply standard AV equipment, technical, security support and advise on most other event-related services for your event at very competitive rates.
Location
Address
Kelvin Way
Glasgow
G3 7TA
Give feedback about this page