Tax Credits are ending. Get ready for Universal Credit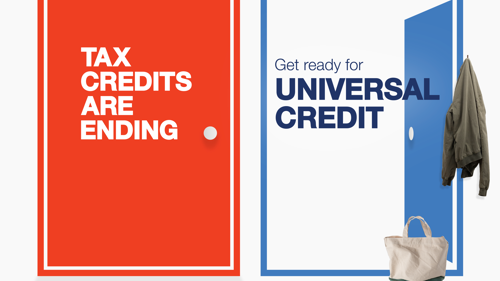 Tax credits are ending, and most people in receipt of these credits will need to apply for Universal Credit instead. If you receive tax credits, look out for a letter from the Department for Work and Pensions (DWP) explaining what you will need to do, and by when.  
If you are claiming tax credits and are aged 65 or over, DWP will write to you to ask you to apply for Universal Credit or Pension Credit, depending on your circumstances.  
You won't be moved automatically so it's important to act quickly and follow the instructions in the letter, otherwise your benefits will stop. To continue to receive financial support, you will need to claim Universal Credit by the deadline stated in your letter, even if you have just renewed your tax credits claim.
Help and support
You can find lots of Universal Credit support information on the DWP website here.
For free independent advice on Universal Credit, call the Citizens Advice Bureau's Help to Claim line on 0800 023 2581.
Our Glasgow Life Universal Credit Hubs (located in libraries across the city) can also offer advice and help you make a claim online. Find your nearest hub on our website here.
Our Employee Assistance Programme PAM Assist offers free and confidential life management and personal support 24/7. Phone 0800 247 1100 or visit pam-assist.co.uk and use code GCC.
Give feedback about this page