Physical Activity Support During COVID-19
Get in touch
If you'd like to chat to us about the support we can offer contact us by phone or email below
Email Us
Speak to us
Leave a message and we will be in touch as soon as we can
Call 0300 343 0400 | Text 07500 881808
goodmoveglasgow@glasgowlife.org.uk
Make your Good Move today and contact us for a chat about how we can support you to increase your daily movement and help you live a healthy, fuller life during the Coronavirus pandemic.
At Good Move we're here to support you to be more active, whatever your circumstances.  We have activities you can do online or leaflets and booklets we can post out to help you keep active, both indoors and outdoors, as well as support offered over the phone from our friendly advisers for those who require additional assistance. Details on how to get in touch are on the right of the screen.
Keeping active during the Coronavirus pandemic brings many benefits for your physical and mental health. However, this is made difficult by various restrictions impacting on services and encouraging us to stay at home as much as possible to limit contact with others.
Good Move can support you during such times to find ways that you can be more physically active in and around your home; whether you're looking to simply sit less and move more in your daily life, improve your strength and balance to help you be more independent or do fitness classes at home. Our special team of knowledgeable staff can get you moving in the right direction!
Read below to find out the many ways we can help you during the Coronavirus pandemic:

At Live Active, we'll help you build the confidence you need to make positive lifestyle changes. We'll personalise our support to make sure it meets your needs through one-to-one discussions. Although our advisors can't currently meet with participants in person, support can be offered over the phone or by video call where desired. To speak with an advisor about arranging a referral to the programme through your GP please contact us and we will get back to you as soon as we can.
If you're a Health Professional looking to refer a patient into the Live Active service, you can find out more info in the following video 
Active At Home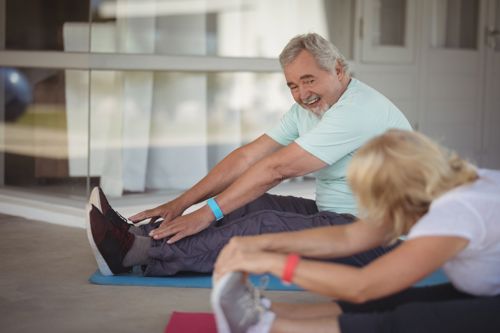 FREE
 

Get Active

 

Online Membership

Glasgow Club have launched a new, free online membership to help you stay active at home through a range of easy exercise classes. You can take part through weekly live sessions, or "on demand" at a time that suits you. They include a chair-based strength & balance class and some fun moderate level exercise sessions, all of which are delivered by our friendly instructors, many of whom are specially qualified to teach classes to people with a range of medical conditions and abilities. There is even a mindfulness class to help keep you relaxed during these challenging times.

Click here to find out more about the free Get Active membership which includes features such as:
Up to 5 'Fun & Easy' live classes each week
Access to all 'Fun & Easy' videos on-demand
Mental Wellbeing tips
LES MILLS On Demand Free Trial with a 33% discount on membership
If you would like to try these classes but don't quite know what to do to get set up, and don't have anyone to help you, please give us a call on the number above and we'll try our very best to assist you. Once you are set up it's very simple to access every week! And of course it's FREE!
There are also lots of useful videos and resources detailed on our Get Active Online page.
Home Activity Packs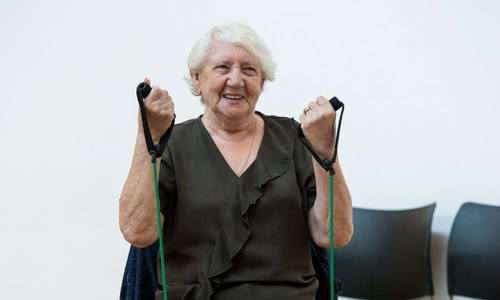 If you know someone who doesn't have internet access, can't get online to access our activities or would simply prefer some paper-based resources then we can still offer support through our Home Activity Packs for those most in need. These can be posted out to participants and include physical activity ideas that can be done at home or outdoors to help keep you active during enhanced restrictions.
These cover a range of activities and we can discuss the most suitable options for each participant:
Strength & Balance

 

- simple activities to do around the home to develop strength to prevent falls and help you lead a more independent life.
You can view useful animations of Strength & Balance activities from Paths For All HERE.
Walking

 

- a guide and diary which helps you set achievable goals to walk more and see your progress over time.
I'm 82 and don't really leave the house at the moment, so I can't get to the shops or do my exercise class like I used to. The home pack helps me to work on my balance which is important to me so I don't fall again.
                            Mrs W, 82, Knightswood

We are slowly restarting our Health and Themed Walks in line with government guidelines. Group sizes are limited just now and everyone needs to book onto a walk. If you have any questions or are interested in joining the walking programme please do get in touch and we can advise on best option available. We can be contacted on 0141 287 3831, 07827305361 or email walking@glasgowlife.org.uk 
In the meantime, you can get in touch with us to request some walking resources to help you make the most of walking and being active outdoors in your local area. These aim to encourage and motivate you to get out and walk more, helping you set realistic goals through a 12 week diary which helps you see your progress over time.
When our Walks return you can come along and enjoy the fresh air, meet new people and take in the sights of Glasgow's parks and gardens. Lasting around an hour, our walks are easy, sociable and most of all good fun. Our walk leaders are on hand to encourage you to go at a pace you're comfortable with and make sure you get the most out of your walk. All abilities are welcome, please bring a buddy if you need one to one support.