Walking
Find your nearest Health Walk
Use our Activity Finder to find your nearest Health Walk
Health Walks
Make Your Good Move Today
Call our team now
0141 287 3831
walking@glasgowlife.org.uk
Our walks are easy, fun and free. What's more, with more than 50 walks taking place each week, there's bound to be one near you.

Come along and enjoy the fresh air, meet new people and take in the sights of Glasgow's parks and gardens. ​​​
Lasting around an hour, our walks are easy, sociable and most of all good fun. Our walk leaders are on hand to encourage you to go at a pace you're comfortable with and make sure you get the most out of your walk. All abilities are welcome, please bring a buddy if you need one to one support.
We also train and support organisations to establish their own walks for members. This allows organisations the freedom to offer walks at a time and day that they know will work for the groups involved. Please call 0141 287 0963 or email walking@glasgowlife.org.uk for more information.
If you are interested in finding out more about the city's culture, art, architecture, wildlife and history come and join us on one of our FREE themed walks across Glasgow.
Our Themed Walks programme continues with a series of events throughout October. Walks will have some adaptations to allow for social distancing measures to be implemented and ensure these are compliant with COVID-19 guidelines.
Click here to view the October 2020 programme
Booking is essential and some restrictions apply. For more info and to book please email walking@glasgowlife.org.uk or call: 0141 287 0963. Please note that there will be a staff member in the office on Mondays, Wednesdays and Fridays only to deal with any enquiries.
By playing this video the provider may set cookies
Walking During Periods of Social Distancing
We know this is an anxious time for many, and we encourage everyone to keep active when they can and if they feel well enough to do so. The secret to maintaining some level of physical activity is to use every opportunity to be active and doing some of this outdoors is fantastic for boosting your mental wellbeing as well as getting a break from being stuck in the house.
Please follow the latest advice if heading out for a walk from our partners at Paths For All
If you're not currently able to walk as much or as far as you would like, our friends at Paths for All have designed a set of resources to help you maintain strong muscles and bones which, in turn, help you to stay active and independent in your everyday life. You can do these exercises at home using their useful Strength & Balance workout:
By playing this video the provider may set cookies
Walking Challenges
Try these Walking Challenges to help keep your daily walks varied and interesting!
Glasgow Sport Walking Challenge
Paths For All 30 Day Walking Challenge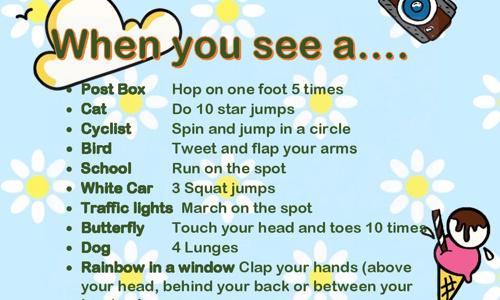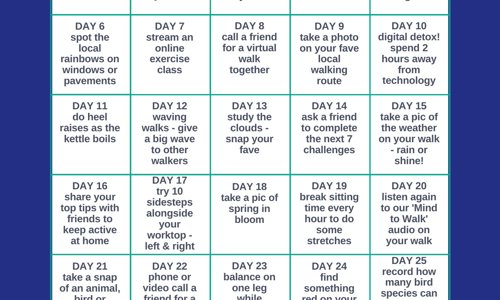 It's important to take care of your mind as well as your body, especially if you have to stay at home because of coronavirus. The Glasgow Club have put tips and resources together to help you keep on top of your mental wellbeing.
Good Move Walking Round Ups
Keep up to date with developments around the resumption of our Walking groups, as well as lots of other resources and ideas to keep you busy at home, with our weekly round ups below. From home exercises, reading lists and free resources to access online, there is something for everyone!
Good Move Round Up October 2020
Good Move Round Up Friday 11 September
Good Move Round Up Friday 4 September
Good Move Round Up Friday 28 August
Good Move Round Up Friday 21 August
Good Move Round Up Friday 14 August
Good Move Round Up Friday 7 August
Walking Football
If you think your footballing days are over, then think again! Try our new programme - Walking football; a slower version of the beautiful game!
Walking football is designed to give you the chance to play the game you love but reduce the chances of injury. It's a great way to keep fit, learn skills, have fun and socialise at the same time!
Find your nearest Walking Football session using our Activity Finder by clicking here.
Useful documents
Accessible formats
If you require documents in large print, braille, or audio versions please email: info@glasgowlife.org.uk