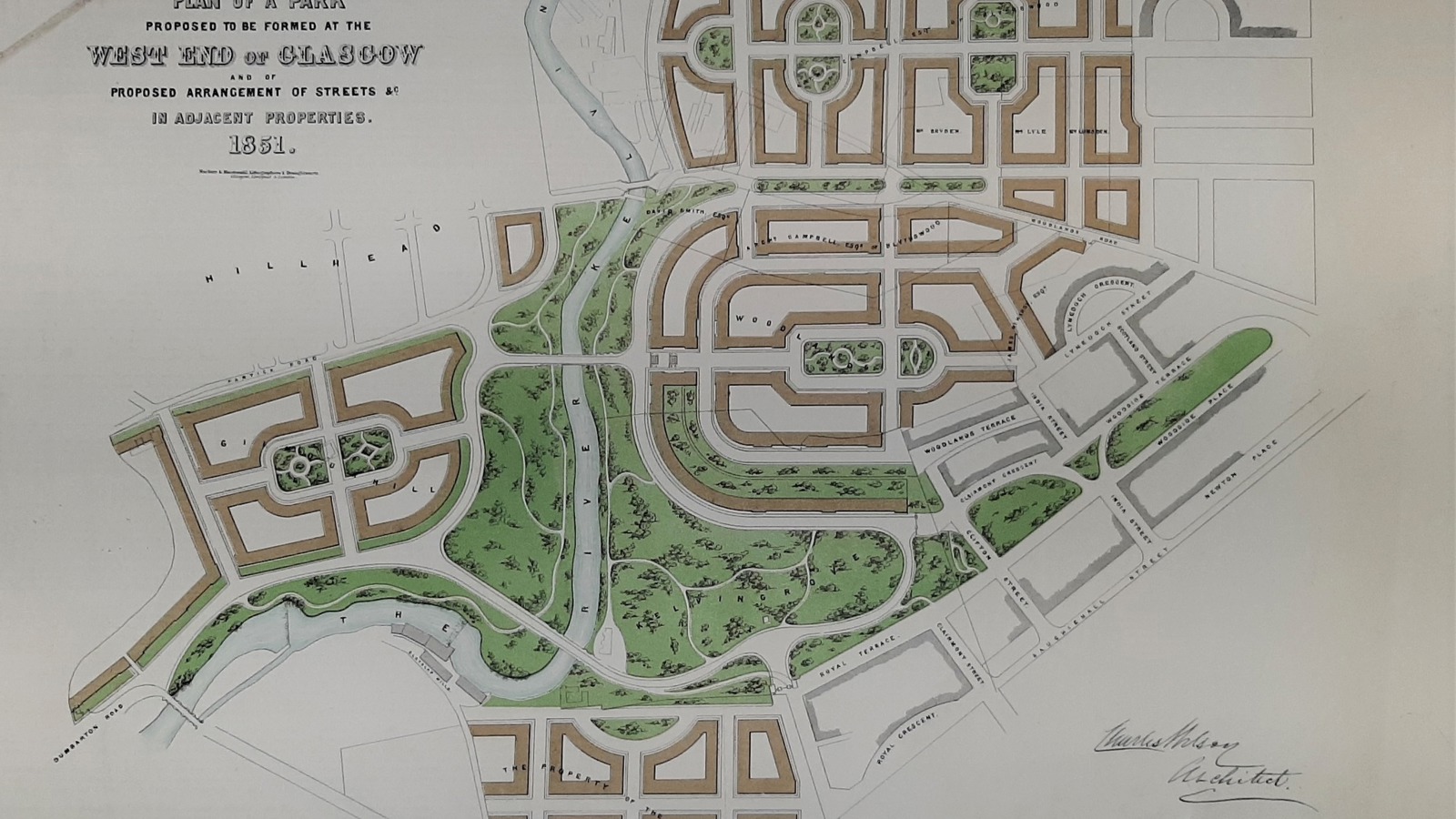 Archive collections
About the archive collections
The City Archives collects, preserves, manages and provides access to the documentary heritage of Glasgow and other parts of the West of Scotland. Our collections include both official and private records, and tell the story of Glasgow and its people from the 12th century to the 21st.
Visit our guide below for a broad overview of some of our main collections. To find out more please contact us by email or phone (0141 287 2910).
If you are researching your family history, please visit our dedicated website – a one-stop shop for the genealogist.
We hold more than 150,000 sets of architectural drawings for buildings in Glasgow, the burghs that were absorbed into the city (such as Govan and Partick) and some of the surrounding area.
The most important of these are the plans submitted to the various building control authorities. Our main holdings for Glasgow begin in 1885 (although we hold a small number before this date) and run until 2006.
We hold records of those admitted as burgesses and freemen for Glasgow, 1573-1969 (incomplete), and Rutherglen, 1620-1975 (incomplete).
Only burgesses could enjoy the privileges of trading, practicing a craft in the city, or voting in Municipal or Parliamentary elections. Burgess tickets were also granted to outsiders who had performed some service for the city.
Archives of local businesses both large and small are held here, reflecting the wide variety of industrial and commercial activity in Glasgow and the West of Scotland.
These include:
Shipbuilders
Iron and steel workers
Merchants and warehousemen
Retailers
Engineers
Architects
Carriers and ship-owners
Fabric and thread manufacturers
Paper-makers
Potters and brick-makers
Chemical manufacturers
Some of the biggest collections have been deposited by firms of solicitors and accountants. However, these tend to consist mainly of clients' papers rather than records of the business itself.
Please contact us for further information if you are interested in a particular company or type of business.
Archives of many businesses are held at the University of Glasgow Archives & Special Collections
Church records are one of the richest sources of private archives that we hold. The Archives are the recognised repository for:
Church of Scotland - records of Glasgow Presbytery and its kirk sessions from the 16th to the 20th century, including those seceding churches which reunited with the established church in 1900 and 1929
Episcopalian Church of Scotland - records of the Diocese of Glasgow and Galloway, including records of the Diocese itself and a large number of churches
We also hold many records of Baptist, Congregationalist, Evangelical, Methodist and Unitarian churches.
We do not hold Jewish or Roman Catholic records, since both faiths maintain their own archives.
The records of the Clyde Navigation Trust are a wonderful source of information about Glasgow's trading history and the creation of the Clyde as an international waterway.
The records of the Trust (1709-1988) include:
Minutes - the main records of the Trust from 1801
Reports and papers - recording all aspects of the Clyde, 1755-1958, including reports from the country's leading engineers: John Smeaton, John Golborne, Thomas Telford and others
Accounts and statistics - detailing the rise of Glasgow as a world trading centre
Report books - these record ships entering and leaving the Clyde (both Glasgow and Greenock), 1819-1968, but do not include passengers' names
Clyde bills of entry - local newspaper, listing arrivals and departures of ships for the Clyde, with details of cargo, etc, 1841-1887
Photographs - thousands of photographs, including construction of works, buildings, cranes and equipment, ships and views of the Clyde
Maps and plans - including general plans of the river and riparian lands, plans of bridges, weirs, canals, railways, lighthouses and the harbour.
The collection also includes records of the Clyde Pilotage Authority, 1856-1998; Clyde Lighthouses and Cumbrae Lighthouse Trusts, 1755-1966; Ardrossan Harbour Co, 1886-1968; and Greenock Harbour Trust, 1755-1966.
We hold the records of the councils of Bute, Dunbartonshire, Lanarkshire, Renfrewshire and part of Stirlingshire.
These include:
Administrative records - including minutes and other records relating to their functions which included water, police, fire, electoral registration and valuation, planning and building control
Commissioners of Supply - minutes for Lanarkshire (1720-1930), Renfrewshire (1843-1929), Dunbartonshire (1765-1929), Bute (1868-1929) and some early valuation rolls from the 18th century
Turnpike trusts from the 18th century
Statute labour trusts from the 18th century
Parochial boards - records of the poor law authorities from 1845
School boards and successor authorities (including school records).
Please note that some records for East Dunbartonshire and North Lanarkshire have been transferred to archives at those local authorities.
Archives of the landed families and their estates are among our most valuable collections. These include a wide variety of subjects and type of record: titles and other legal papers, rental rolls, personal family correspondence, estate accounts (including records of foreign estates, such as Jamaica), witchcraft, tobacco lords, maps and plans, records of local and national affairs, and very many others.
The family and estate archives include the following:
Colquhoun of Luss, 1188-20th century
Maxwell of Pollok, Glasgow and Renfrew, c1200-1975
Stirling of Keir and Cadder, Perthshire and Lanarkshire, 1338-c 1940
Speirs of Elderslie, Renfrewshire and Dunbartonshire, 1561-1999
Smith of Jordanhill, Renfrewshire, 1625-1962
Lennox Family of Woodhead, Dunbartonshire, 1421-1960
Islay Estate, Islay, 1741-1966
Ramsay of Kildalton, Islay, 1707-1984
Shaw Stewart Family of Ardgowan, Greenock and Renfrewshire, 1250-1966
Cochrane-Baillie of Lamington, Lanarkshire, 19th-20th century
Crum Family, Thornliebank, Renfrewshire, 1782-1960
Blythswood Estate, Glasgow and Renfrew, 1662-20th century
Campbell of Succoth and Garscube, 1533-1965
Houston of Johnstone, Renfrewshire, 1664-1951
Hamilton Family of Barns, Old Kilpatrick, Dunbartonshire, 1537-1827
The archives of the Glasgow Corporation and its successor authorities is the largest and most significant collection we hold. It represents more than 400 years of local government in the Glasgow area.
The records include:
Council minutes dating from 1574
Architectural plans: detailed plans of almost every building erected or altered within the city boundaries since 1885
School archives: log books and admission registers for more than 300 city schools
Poor law archives: records of the various parochial boards in the city and more than one million applications for poor relief
Annexed burghs: archives of the burghs and other areas annexed to the city in the 19th and 20th centuries.
There are also many records covering the other functions of the city. These include fire brigade, housing, transport, police, civil defence, water supply, health services, licensing, parks, galleries and museums, gas and electricity and telephones.
Glasgow City Archives hold records of the Merchants House and Trades House in Glasgow and all 14 individual craft incorporations, such as bakers, wrights and masons.
The records can include lists of members, accounts and minutes dealing with regulations, donations to poor members and apprenticeships.


Craft guilds or incorporations were formed in the Middle Ages and were an important part of burgh life. Groups of craftsmen organised themselves to regulate who could work at each craft. The intention was to control numbers, but also to exclude people calling themselves craftsmen who did not have the requisite skills.
We hold hundreds of thousands of photographs from the early days of photography to present-day digital images including:
Main photographic collection - a cumulative collection of over 10,000 photographs, which do not form any part of another archival group
Photographic surveys of Glasgow schools, c1916 and c1960
Clyde Navigation Trust photographs: including groups and individual portraits, construction of works, buildings and sheds, cranes and equipment, ships and views of the Clyde (including aerial views)
Department of Architecture and Civic Design
City Assessor's Department
Department of Planning
Ralston Collection - a firm of marine and industrial photographers who were commissioned by the Clyde-based shipbuilding firms
Upper Clyde Shipbuilders and predecessors - photographs of more than 600 ships built on the Clyde, many during construction
Parker Smiths of Jordanhill - including a series of photographs, travel albums, family albums, glass negs, portraiture, cartes des visites, daguerro and ambro types dating from c1850-1920
Negatives of the firm Vista of Glasgow, 1954-1981
Hundreds of thousands of photographs across other collections
Many of our photographs are available on Virtual Mitchell and The Glasgow Story.
The Archives holds the records of police within Strathclyde. These include the records of Glasgow Police - established in 1800 and almost certainly the oldest police force in the world - and Strathclyde Police.
As well as administrative records, the collection includes personnel records of policemen in the West of Scotland from the 1820s to 1985, including:
Glasgow - Glasgow Police (1825-1975), and the forces of the annexed burghs of Govan (c1872-1912), Kinning Park (1866-1905) and Partick (1863-1912)
Ayrshire - County Police (1860-1974), Ayr (1853-1961), Kilmarnock (1880-1920)
Dunbartonshire - County Police (1869-1974)
Lanarkshire - County Police (1945-1972), Airdrie (1889-1956) and Hamilton (1887-1958)
Renfrewshire - County Police, later Renfrew and Bute (1858-c1974), Johnstone (1876-1930), Paisley (1883-1947), Port Glasgow (1871-1891) and Renfrew (1926-1930)
The records include personal details about the policemen and may record notes on disciplinary action. They are closed for 75 years under data protection legislation. If you wish to request access to later records, please contact us for advice.
Poor law archives are our most important source for the family historian. These are the records of the poor law authorities, which contain over one million applications for poor relief. We hold records for the following areas: • Glasgow, 1851-1948 • Barony, 1861-1898 (part of Glasgow from 1898) • Govan, 1876 – 1930 (part of Glasgow from 1930) • Bute, West Dunbartonshire, South Lanarkshire and Renfrewshire (not including Paisley), often dating from 1845. Poor relief applications are particularly useful for researching people who migrated to the city, including those from Ireland. Records are generally closed for 100 years for children and 75 years for adults. Poor law authorities were responsible for children separated from their parents and the records can contain information about children who were fostered or adopted. Access restrictions apply to fostering or adoption records that are less than 100 years old. If you are interested in records of this nature, please contact Glasgow City Council's Families for Children department for assistance:families.children@sw.glasgow.gov.uk
We hold the records of the Royal Burgh of Rutherglen which was founded by David I in the first half of the 12th century and which existed until local government reorganisation in 1975.
The records include:
Council minutes - the main record of the burgh from 1619 until 1975
Burgh charters - from 1542 to 1617
Court records - from the 17th to the 20th century
Building records - registers and plans of buildings in the Burgh from c1870 to 1975
Financial records - various financial records from the 17th century including stent rolls, 1663-1742
Burgesses - records of the admissions of burgesses, 1620-1975
Incorporation of Weavers, 1641-1866 and Masons and Wrights, 1636-1758
Electoral registers - 1832 to1931
Valuation rolls - 1864 to 1975
Our collection of school records is unrivalled in Scotland. We have an excellent set of school records for Glasgow, and less complete sets for the former Strathclyde areas of Bute, Dunbartonshire, Lanarkshire and Renfrewshire.
We hold the records of some 300 schools under the jurisdiction of local authorities, including non-denominational and Roman Catholic schools. We also have a limited number of records for fee-paying schools.
School records mainly consist of:
Admission registers - these contain pupil information and can include name, date of birth, address, date of admission and date of leaving
Log books - these are Head Teacher journals and can include staff and pupil absence figures, fire drills and visitors to the school.

You are welcome to view your own records but otherwise, admission registers are closed for 30 years. Some registers contain sensitive information about pupils, for example the results of IQ tests. These registers are closed for 75 years. Log books may also contain sensitive information and are closed for 50 years.
Examination results can be obtained from the Scottish Qualifications Authority.
Glasgow City Archives is committed to sharing online Glasgow's wonderful documentary heritage. These resources will help tell the story of our city as it grew from a small cathedral town, to an international trading city and then a world-renowned centre for shipbuilding and engineering.
The Stirling of Keir archive is one of Scotland's major collections for the study of Caribbean slavery. The family had sugar estates in Jamaica – Hampden in St James and Frontier in St Mary. A selection of documents has been digitised from one series of records (TSK 22 2). These include: letter book of James Stirling, 1764-1772; account books for both Hampden and Frontier; invoices and sales books, 1764-1784, including lists and valuations of enslaved people; and records of ship arrivals with details of sales of sugar and rum, 1788-1793.
Letter book, 1764-1772 (TSK 22 2) ©Glasgow Life: Glasgow City Archives
Account book, 1764-1778 (TSK 22 3) ©Glasgow Life: Glasgow City Archives
Account book, 1781-1784 (TSK 22 4) ©Glasgow Life: Glasgow City Archives
Invoice and sales book, 1770-1776 (TSK 22 5) ©Glasgow Life: Glasgow City Archives

Invoice and sales book, 1775-1781 (TSK 22 6) ©Glasgow Life: Glasgow City Archives
Invoice and sales book, 1780-1784 (TSK 22 7) ©Glasgow Life: Glasgow City Archives
Ship arrivals & sales of sugar and rum, 1788-1790 (TSK 22 11) ©Glasgow Life: Glasgow City Archives
Ship arrivals & sales of sugar and rum, 1789-1793 (TSK 22 12) ©Glasgow Life: Glasgow City Archives

Keir works at Hampden, plan and elevation, n.d. (TSK 22 13) ©Glasgow Life: Glasgow City Archives

Hampden House, front elevation, n.d. (TSK 22 14) ©Glasgow Life: Glasgow City Archives
Hampden estate plan, n.d. (TSK 22 15) ©Glasgow Life: Glasgow City Archives
The Scottish Co-operative Wholesale Society was formed in 1868 for the purpose of purchasing or manufacturing goods for supply to numerous local co-operative retail societies.
A factory complex was established at Shieldhall, Glasgow, which produced a wide range of foods, furniture, clothing and metalware. The Society also moved into retailing, and either opened local branches or took over small local societies.
The archives of the Scottish Co-operative Wholesale Society include:
Records of local retail and other societies throughout Scotland, 1826-1980
Periodicals, 1864-1978
Printed histories of local co-operatives in Scotland and England
Printed rule books of local societies and other bodies, 1906-1974
Papers relating to trademarks, certificates and patents, 1917-1976
Minutes and other records of the Scottish Co-operative Women's Guild, 1892-1984
Records of the Scottish Co-operative Party
Miscellaneous reports, correspondence and papers, many of them concerning staffing, wages and salaries, 1892-c1975
Shipbuilding archives can include plans, photographs, technical data, company minutes and cost books. Personnel records are less likely to have survived, which means tracing ancestors using these records can be difficult.
Our records are arranged according to shipbuilding company. The main collections are:
Ardrossan Dockyard Ltd
Barclay, Curle & Co Ltd
George Brown & Co (Marine) Ltd
Charles Connell & Co Ltd
Fairfield Shipbuilding & Engineering Co Ltd (formerly John Elder & Co)
A & J Inglis Ltd
John G Kincaid & Co Ltd
Langmuir Collection, Clyde Paddlesteamers
Hugh McLean & Sons Ltd.
If you are interested in locating plans and photographs of a particular ship, but do not know who built it, we hold an index to Clyde-built ships.
Many shipbuilding records are held at the University of Glasgow Archives & Special Collections [LINK: https://www.gla.ac.uk/myglasgow/archivespecialcollections/discover/business/]
Strathclyde Regional Council was one of nine regional councils created by the Local Government (Scotland) Act 1973 and came into operation in May 1975. This council covered the whole of the former counties of Ayrshire, Bute, Dunbartonshire, Lanarkshire and Renfrewshire, almost all of Argyllshire, part of Stirlingshire and the whole of Glasgow City. Strathclyde Regional Council inherited the powers and duties of the former county councils and the Glasgow Corporation, including responsibility for schools and police. Regional Councils were abolished in 1996.
The main functions of the Regional Council were:
Education
Social Work
Voters and Valuation Rolls
Police and Fire
Water
Sewerage
Transport
Consumer and Trading Standards
Many of the papers of Strathclyde Regional Council are held in our records management system and are not available for direct public access. Please contact us if you wish to find out more information about using the records of Strathclyde Regional Council.
Give feedback about this page