Carnegie Libraries - Times Past
Posted on 3 May 2023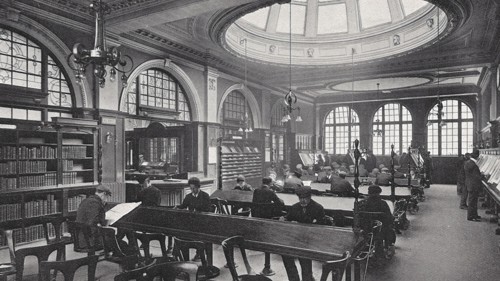 In partnership with the Glasgow Times, our archivists are exploring Glasgow's fascinating history. This week, Michael Gallagher writes about Andrew Carnegie and his legacy of libraries.
Glasgow, like many other cities, benefitted from the largesse of Andrew Carnegie. The Dunfermline-born industrialist helped build more than 2500 libraries across the world, including fourteen in the city.
In 1901 Carnegie wrote to Lord Provost Samuel Chisholm, explaining how his family left the Broomielaw for New York half a century before and pledging the sum of £100,000 towards the city's libraries. "Glasgow has done so much in municipal affairs to educate other cities and to help herself," added Carnegie, "that it is a privilege to help her."
Glasgow's library scheme was actually devised before Carnegie's gift. In 1898, the Town Council agreed to apply to parliament for a special act which would enable it to establish free public libraries across the city. The act was passed the following year and the City Librarian prepared a report recommending the creation of eight libraries and five smaller reading rooms.
Carnegie's donation enabled the city to build more, better-equipped libraries. When the plan was revised in the years after 1901, then-Lord Provost William Bilsland was keen to stress that Carnegie may not have come to Glasgow's aid had the city not taken the first step by itself: "That philanthropic gentleman preferred, like Providence, to help those who help themselves."
Progress under the enhanced scheme was swift.
Kingston was the first "Carnegie library" in the city in 1904, followed by Anderston later that year. Woodside, Maryhill and Dennistoun opened their doors in 1905 and the following year saw Govanhill, Springburn, Bridgeton, Parkhead and Hutchesontown libraries welcome their first readers.
Carnegie's initial gift was exhausted in 1907 following the completion of Pollokshields and Townhead libraries. However, he pledged an additional £15,000 to meet the cost of Possilpark and Langside libraries, which were opened in 1913 and 1915 respectively. Having also allocated £5000 for the construction of Kinning Park Library in 1904 (before it was incorporated into the city), this meant that Carnegie's overall donation to Glasgow's library network totalled £120,000.
Other benefactors also contributed, including Walter MacFarlane & Co, which gifted the site for Possilpark Library, and Isabella Elder, who donated £27,000 to the Burgh of Govan for the library which bears her name.
Andrew Carnegie was one of the richest men in the world, primarily through wise investments in the railway and steel industries. His late-career philanthropy jarred somewhat with the unscrupulous way he accumulated his wealth and he was known for an unsentimental attitude towards labour, supressing wages and the unions.
After his reinvention as a philanthropist, he set about redistributing his wealth under the principles of "scientific philanthropy" which placed great importance in libraries. "A library outranks any other one thing a community can do to benefit its people", he once said. "It is a never failing spring in the desert." Carnegie's gift has helped generations of Glaswegians to educate themselves through libraries and that spring is still flowing more than a century after his death.
Give feedback about this page