Research and enquiries
Our research facilities are open to all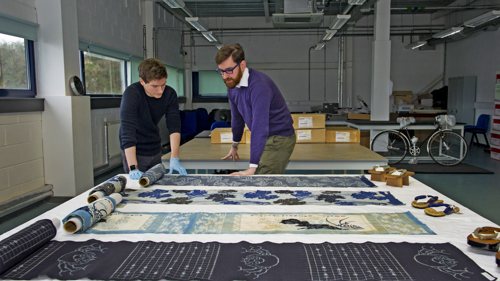 Collections research and enquiries
Glasgow Life Museums collection is a Recognised Collection of National Significance to Scotland. Our extensive collection provides invaluable information for people wishing to undertake research in Art and Design, Human History, Natural History or Transport and Technology.
The research facilities are open to all, from school children undertaking assignments through to postgraduate students completing dissertations to professional researchers or members of the public who have an interest in our collection.
Research Charter
Everyone is welcome to study objects from our collection. However, there may be some restrictions to accessing objects for reasons of health and safely or cultural sensitivity. Children under 16 should be accompanied by an adult. Access to the collection is free. Students and researchers do not need to supply a letter of reference. We welcome enquiries relating to the collection but please be aware that our resources are limited and a charge may need to be levied if our staff need to spend a considerable amount of time researching your enquiry. We also have a reference library of books relating to our collection and museum archive materials which are available for use by the public.
Enquiries
Initial enquiries should be made to: museumcollections@glasgowlife.org.uk.
We are only able to respond to specific enquiries about Glasgow Life Museums' collection. We are not able to provide valuations, object identifications or generic information about broad subject areas. Please do not send unsolicited objects through the post or take unsolicited objects to any Glasgow Life Museums' venue.
Give feedback about this page