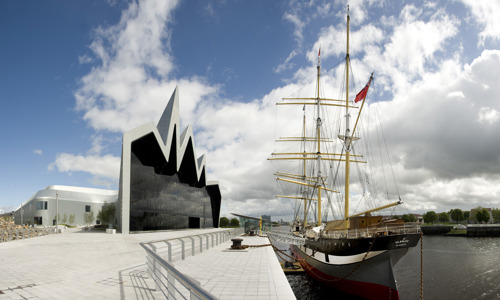 Free entry
Contact
0141 287 2720
museums@glasgowlife.org.uk
Riverside Museum is Glasgow's award-winning transport museum. With over 3,000 objects on display there's everything from skateboards to locomotives, paintings to prams and cars to a Stormtrooper.
Get hands on with our interactive displays. Walk through Glasgow streets and visit the shops, bar and subway. Climb aboard a train, tram or bus and get a real feel for old public transport. Discover Glasgow's rich shipbuilding history, explore the car and motorbike walls and help put out a fire with our interactive fire engine.
There are over 90 large touch screens panels full of images, memories and films that tell the fascinating stories behind the objects. There really is something for all ages to enjoy at the Riverside Museum.
Visit the Riverside Museum online shop.
Accessible toilets
An accessible toilet is located on the right past reception. Another accessible toilet is located near the cafe area - there is level access to this accessible toilet.
Assistance dogs
Guide and assistance dogs are welcome and water bowls are available. 
Hearing loop
There is a hearing assistance system - the type of system is a portable loop. This venue does not play background music.
Wheelchair access
There is wheelchair and pram access to all public areas using the lifts and there are free wheelchairs available to hire at reception. 
Additional information
You can find further access information for this venue on the AccessAble website or on the Euan's Guide website. 
Riverside Museum is a five star Visit Scotland visitor attraction.
Baby changing
Baby feeding
Cafe
Cloakroom
The cloakroom costs £1
Parking
The car park is managed by City Parking. Charges are as follows:
Mon-Sun 8am-6pm
1 hour £1.60
2 hours £3.20
3 hours £4.80
4 hours £6.40
5 hours £8.00
10 hours £10.00
Mon-Sun 6pm-8am, £2 flat rate.
There are 12 spaces reserved for blue badge holders, free of charge with no time restrictions. There are designated parent and child spaces. For car park enquiries please contact 0141 276 1830.
Photography and video recording
At times, Glasgow Life will be on the premises to film and take photos.
Restaurant
View our menu.
Shop
Free wifi
The nearest Train station (PTK), Subway station and Bus station can all be found at the Partick transport hub, also known as the Partick Interchange, around 0.6 miles from the museum. There are signposted walking routes from there to the museum.

The lines for the train station run through the Low-Level platforms, at Glasgow Central (GLC) and Glasgow Queen Street (GLQ).

The closest Subway station to Glasgow Central is St Enoch's.

The closest to Glasgow Queen Street is Buchanan Street.

The only buses that serve Riverside are:
Cycle parking is available at the west side of the museum. 
EV Rapid charging station available in car park. 
Please note: If you are coming into Glasgow by train and planning to use a PlusBus ticket, the 100 bus is not covered (nor the sightseeing buses).

The Next Bike bicycle hire scheme is also in operation around Glasgow, with locations to pick up and drop off around the city, including at the Riverside.  
If you use a Taxi or private-hire car, there is a drop off point beside the car park. Disabled visitors can be dropped off at the front door, access is via the slip road barrier.

In case it is of use to anyone in your party, the AccessAble website has some useful accessibility information.
If using a Sat Nav for directions, we recommend you enter "The Riverside Museum" rather than the postcode.
Location Map
Riverside Museum displays
Find out more about the display themes at Riverside Museum.