Antonia Quayle - Southside Boxing Academy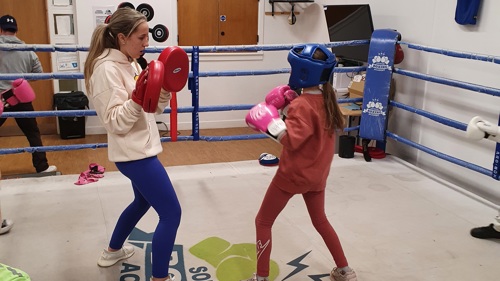 "The people who coach and volunteer at our club are essential, without them there would be no club."
Voluntary sport coaches are the heartbeat of clubs and community organisations across Glasgow. Glasgow Life Sport provide support to ensure that those volunteers are supported and can attend training courses that allows them to be confident in their roles.
Antonia Quayle, a boxing coach within Southside Boxing Academy, attended a Boxing Scotland Level 1 course after receiving support from the Coach and Officials Award.
Antonia is a fantastic role model within the club to all of the young boxers, and in particular to those girls that attend. For a club like Southside Boxing, coaches like Antonia are worth their weight in gold and access to funding support for training can make all the difference in keeping them at the club.
"I feel much more confident since being on the course … There's not many female boxing coaches … it's great I can now coach and help the young people and particularly the female boxers."
Give feedback about this page