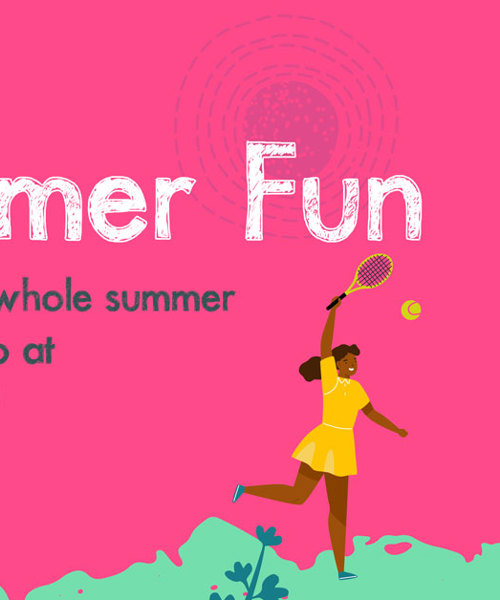 Glasgow Sport have a whole range of activities to keep kids active during the summer holidays. Check out our full holiday programme timetable. 
Free Family Swimming
Make a splash this summer! Come along with your family and swim for FREE, in your local Glasgow Life pool. Find out more about our free family swimming.
Tennis Camps (Glasgow Club Scotstoun)
Our camps, led by our qualified tennis coaches are a great way for children to have fun, meet new friends and learn lots of new skills. Find out more about our tennis camps. 
BMX Accreditation (Glasgow BMX Centre)
If you're aged 8-15 and fancy getting on the BMX track to work towards your Accreditation (level 1 & 2) this free course is for you.
You just need to be able to:
Complete a lap of the track (flat ground) standing on the bike unaided
Be able to stop under control
Display "pedals level" where appropriate
Find out more about BMX Accreditation.
Football: Player Development Camps
Emirates Arena, Toryglen Regional Football Centre & Glasgow Club Scotstoun
A week-long camp to have a taste of what it's like to train like a professional footballer. Activities include football fitness, dominating in your 1v1, tactical development, small-sided games, and player development reports. Find out more about our football camps.
Crash Course Swimming Lessons
Glasgow Sport are excited to offer 1-week intensive Crash Course swimming lessons to non-members throughout the Summer holiday period.
These 30 minute beginner classes will cater for children aged 5yrs or over who are non-swimmers or can swim a few strokes unaided and will introduce and develop further swimming skills. Classes will also be available for improvers currently attending classes in Swim Skills 3 & 4 in any local authority (Swim Skills 1 & 2 are beginners).
Bookings cost £25 per child, per week. Find out more about our crash course swimming lessons.
Disability Holiday Programme
Glasgow Club Maryhill: 11-15 July
Tollcross International Swimming Centre: 18-22 July
A fun and exciting way for children and young people aged 5-17yrs to try a variety of different sports. All sessions are delivered in partnership with Scottish Disability Sport, Glasgow Life and local clubs from across Glasgow. Find out more about our disability holiday programme.
Disability Multi Sport
Find out more about disability multi sport 
Soft Play (Kelvin Hall)
Let your imagination take you on a journey in our amazing Circus in the Park themed soft play, an exciting adventure indoor soft play for ages 0 to 12 years. Join us for a completely unique experience for both children and parents, with state-of-the-art play facilities, lots of comfortable seating, excellent tea and coffee, and a café which serves a range of meals and snacks. Find out more about Kelvin Hall Soft Play.
Clip n Climb (Kelvin Hall)
Clip 'n Climb isn't your typical climbing wall - it's all about the fun. If you're aged four and up then this is a day out you don't want to miss, full of empowering and action packed challenges for everybody! There are climbing challenges available for all abilities, and the truly brave can take on the Leap of Faith! (to take the leap you need to be at least 120cm tall). Find out more about Kelvin Hall Clip n Climb.