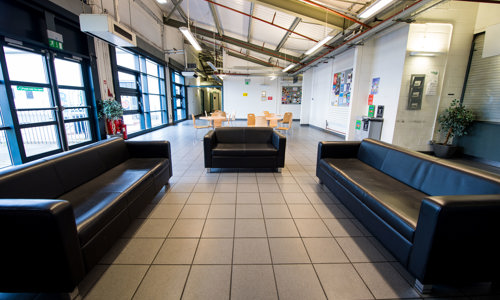 Molendinar Community Centre
Molendinar Community Centre
LATEST INFORMATION: THIS COMMUNITY CENTRE REMAINS CLOSED TO THE PUBLIC. PLEASE SEE OUR LATEST INFORMATION PAGE FOR UPDATES.
Molendinar Community Centre is managed by Glasgow Life on behalf of Glasgow City Council, as a resource for the local community. It was originally built in 2006 and was opened by Councillor Marshall.
There is a community gym on site, offering a wide range of cardio machines, weight machines and a free weights area. The gym is open Monday to Friday, 9.00am-8.30pm and Saturday 9.00am-4.00pm. A gym induction is FREE, then pay as you go costs £2.00 per visit or £10.00 per month.
The centre also offers an IT suite which is open Monday to Friday 9.30am-6.30pm and Saturday 9.30am-4.00pm and is free of charge. Please note there are no printing facilities on site.
Experienced staff are always on hand to assist with any special requirements.
Accessible toilets
Assistance dogs
Wheelchair access
Additional information
View our autism-friendly guide to Molendinar Community Centre. 
View the Accessibility Guide on AccessAble – the new name for DisabledGo.
Baby changing
Baby feeding
Cloakroom
Community information
Parking
There is a car park to the front of Molendinar Community Centre, providing free off-street parking. There is also additional free on-street parking in the immediate area.
Rooms for hire
Meeting Room (Capacity 20) 
Multi Purpose Room 

(Capacity 25) 

Medium Hall 

(Capacity 60) 

Large Hall 

(Capacity 120) 

I.T Suite 

(Capacity 8) 
Please note that all rooms are wheelchair accessible.
Minimum Let duration is 1 hour. Lets for part of an hour will be charged at the hourly rate. 
For booking enquiries, please call us on 0141 276 1300.
See the 2019-20 price list for room hire.