GlaswegAsians
The South Asian contribution during World War II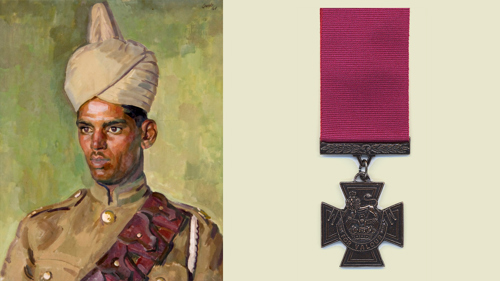 Driver Abdul Ghani, by Henry Lamb, 1941. Oil on canvas, 2750 © CSG CIC Glasgow Museums Collection.
The Victoria Cross awarded to Naik Gian Singh, who fought with the British Indian Army in Burma, now Myanmar.
'The scale of the British Indian Army contribution cannot be overlooked. In the Second World War, there were 2.5 million servicemen – 87,000 died and 150,000 were injured'.
Dr Saqib Razzaq, Colourful Heritage
During World War II the contribution of South Asian soldiers - mainly from India, Pakistan and Bangladesh - was vital to Allied success.
In 1939, four transport companies of the Indian Army Service Corps (Force K6) went to France. Many of them were evacuated from Dunkirk and Saint-Nazaire in 1940 and later sent to north-east Scotland to train for a possible invasion of Norway. Abdul Ghani, shown above, was one of those men.
South Asian soldiers faced Italian and German troops in North Africa and fought at El Alamein. In 1943, many sailed north to fight in Italy.
In Asia, the British Indian Army fought the Japanese in Malaya – now peninsular Malaysia – and then Burma, now Myanmar, in difficult jungle conditions.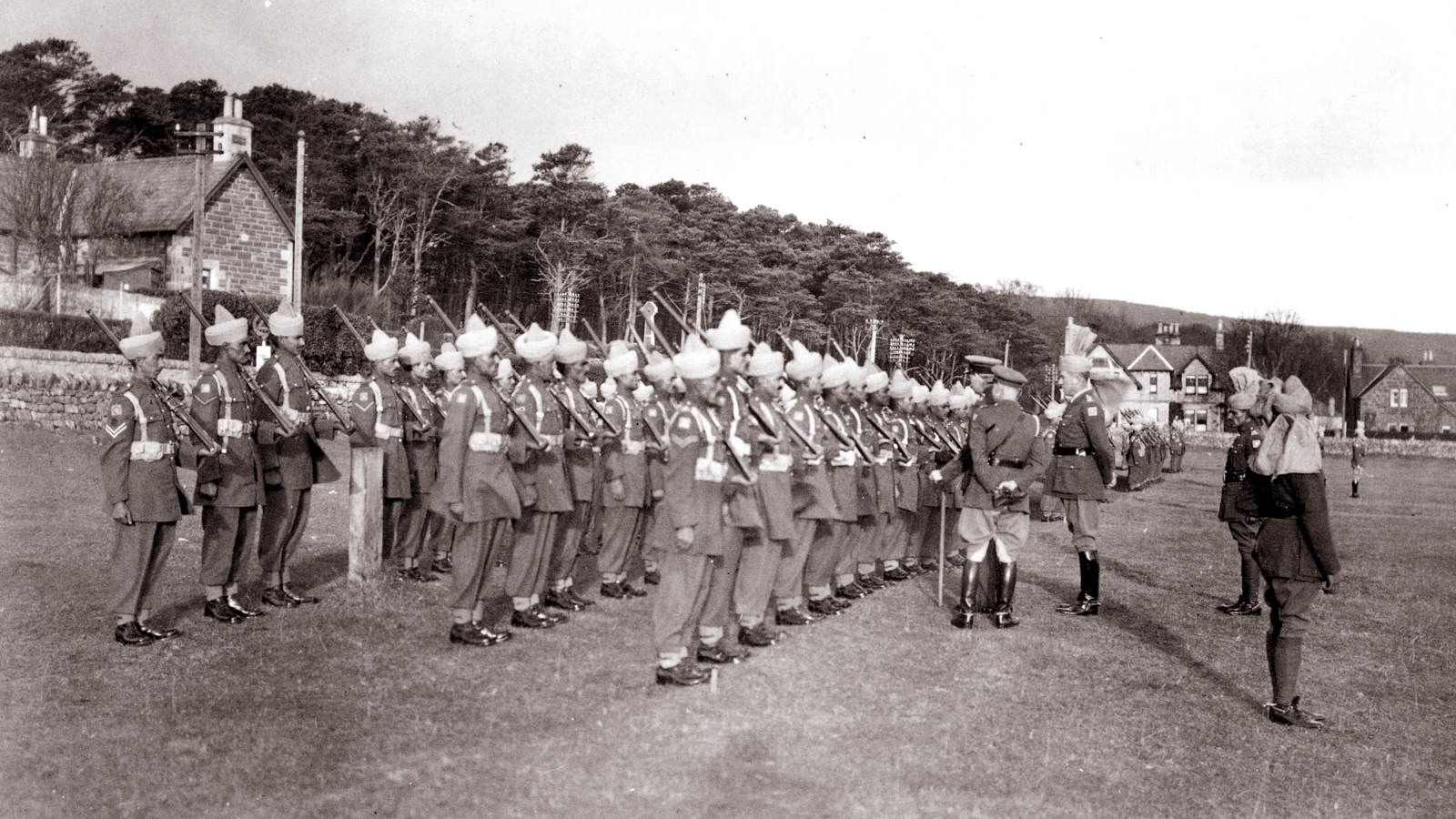 'Many people of colour have heard the phrase 'go home' at some point in their lives. But the wider community forgets that this is our home and that our forefathers helped create the freedom that we all enjoy'.
Mrs Ravinder Kaur Nijjar
Although Glasgow's South Asian population was small, many of its members worked in munitions factories and other jobs supporting the war effort. Mrs Ragbir, a doctor's wife, joined the Red Cross to help the sick and wounded. Jagat Singh worked at the Royal Ordnance Factory in Bishopton making munitions. The materials he was exposed to there led to his early death from cancer.
Out at sea, lascars – merchant seamen – risked their lives transporting food, supplies and people across the world. The SS City of Benares was torpedoed in 1940, while evacuating children to Canada. 256 people died, including 101 South Asian crewmen and 123 children.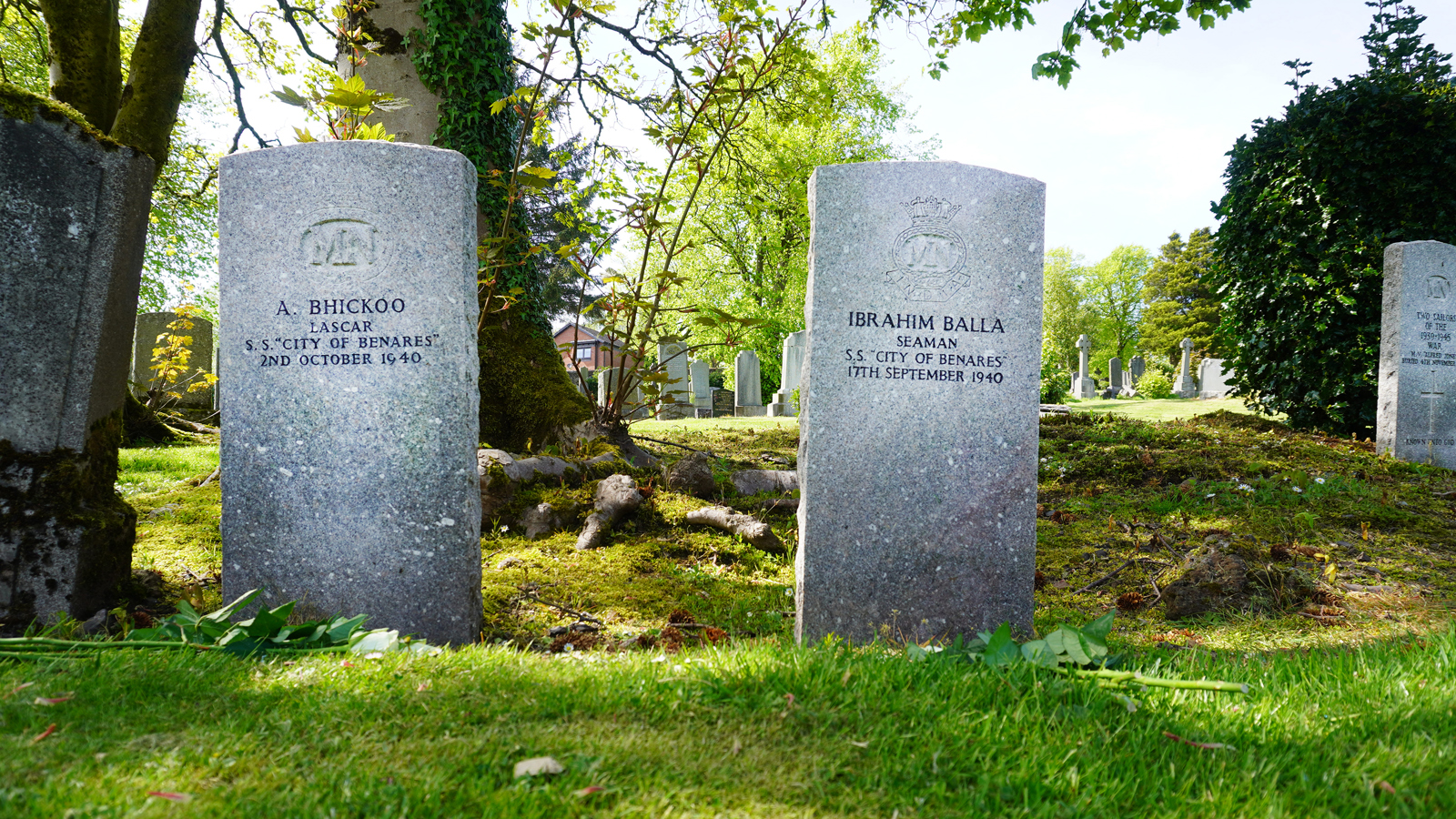 Isobel Harling BEM and Kingussie Remembrance Service Highlights, 2018
Highlights from the inaugural memorial service organised by Colourful Heritage and the British Army, commemorating the British Indian Army soldiers of Force K6 buried in Kingussie, Scotland.
Colourful Heritage and Glasgow Life Museums - Schools Resource Pack
Colourful Heritage is an organisation dedicated to capturing, celebrating and inspiring others in the history of the immense contribution of South Asian migrants and Muslims to Scotland over the past century.
Colourful Heritage - the British Indian Army Memorial
Colourful Heritage are building Scotland's first memorial to commemorate the fallen soldiers of the British Indian Army mainly from present day India, Pakistan and Bangladesh of various faiths and no faith.
Imperial War Museum - 15th Punjab Regimental Centre's Reception to Naik Gian Singh, VC.
Colonel Goddard and his officers welcome Naik Gian Singh and process through the crowded streets, flanked by cheering soldiers and civilians.
British Indian Army resources
A corner of Pakistan in Scotland
The story of the Muslim Force K6 soldiers from the Pakistan side of undivided India that are buried in the Scottish Highlands.
The Royal Indian Navy in the Battle of the Atlantic in World War II
Two unknown stories of the South Asian contribution to the Battle of the Atlantic in World War II. Find out more.
Lascar Heritage Project
Discover the previously untold stories of the Lascars, the South Asian sailors of Colonial Britain.