My Stories
Book by phone
You can book your visit by phone by using the number below.
0141 276 9505/9506, option 1 (Monday to Friday).
My Stories is a digital resource based at Kelvingrove Art Gallery and Museum which is supported by the Hunter Foundation.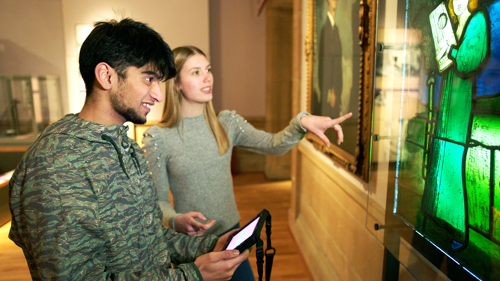 Glasgow Museums
My Stories was created with young people for young people
This interactive experience was co-designed by young people aged 12–18+ who may not ordinarily visit museums. Using a tablet guide and working in small groups, participants are encouraged to explore the museum and take part in tasks, games, and challenges. Then in a debrief discussion users reflect on their experience and identify varied skills that they demonstrated whilst in the galleries. 
Bookings are free, and available to schools, colleges, youth groups, and other agencies working with young people. My Stories can facilitate a maximum of 25 participants and is designed to last for approximately 1 hour 30 mins.
All visits must be booked in advance:
Email - museums.schoolbookings@glasgowlife.org.uk
Phone - 0141 276 9505/9506, option 1 (Monday to Friday)