Away for the day
'Away for the Day with Glasgow Museums' is a booklet full of free family fun.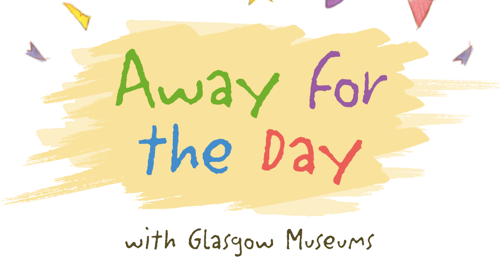 Please note that some displays and activities may have changed since the time of printing. Check with the museum venue before visiting.
There is a page for each of our 9 museums. You will find activities, suggestions of family-friendly displays to explore, and ideas for what else there is to see and do nearby.
Families who are new to Glasgow Museums and families who have visited our museums before helped to create this booklet – there are top tips inside.
Glasgow Museums belong to you. You and your family are welcome here. We understand that all families have different interests and needs, and we aim to help you to get what you want from your visit.
Have fun and don't forget to collect your sticker from reception!
Download the booklet to try something new together as a family.
Away for the Day - Arabic version
Away for the Day - English version
Away for the Day - Mandarin version
Away for the Day - Polish version
Away for the Day - Punjabi version
Away for the Day - Romanian version
Away for the Day - Urdu version


Useful documents
Accessible formats
If you require documents in large print, braille, or audio versions please email: info@glasgowlife.org.uk